Jeremy Guscott's Six Nations Q&A

By Jeremy Guscott
Rugby union analyst, BBC Sport
Last updated on .From the section Rugby Union288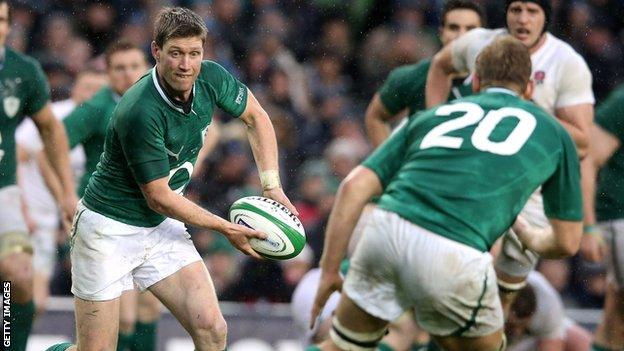 Among the topics Jerry discusses this week are:
- If this is the end for Ronan O'Gara's Ireland career
- The career of retiring ex-Wales fly-half Stephen Jones
- Who should replace Owen Farrell at 10 for England
- Whether Scotland will beat Wales
- Why he did not go into coaching
Jerry answers questions posted on the website at the start of every week - entries are now closed for this Q&A. This week's answers appear below.
Hi Jerry, simple question, what are your predictions for the three matches this weekend? FreddiesAlive
Hi FreddiesAlive. Scotland v Wales - Wales to win. Ireland v France - Ireland to win. And England v Italy - England to win. I'll be looking at Sunday's England v Italy game in more detail on the website later in the week.
Hi Jerry, simple one. Do you think Ireland fly-half Ronan O'Gara's time in international rugby is over? And is it the right decision to leave him out?Cayacer
Hi Cayacer, to me it seems a strange decision to leave Ronan out after his inclusion for the first three games in the Six Nations, given that Declan Kidney has stood by him for so long. However, the coach now seems to think his time is up.
If we look as far ahead as the 2015 World Cup it's unlikely that ROG will be playing so it's a smart move to bring in the guys who are likely to be around then. ROG has had a tremendous international career and will be remembered for all the great games and match winning performances he has produced for Ireland.
He's by far Ireland's highest points scorer of all time with 1,083 and the fourth highest Test points scorer of all time (seven behind third-placed Neil Jenkins of Wales). If his time as an international is up he can be proud of his contribution to his national side. Future Irish fly-halves will find his records difficult to match.
Hi Jeremy, I was just wondering where you think Stephen Michael Jones, who will retire at the end of the season, ranks among the list of great Welsh stand-offs? Is his place amongst the greats like Neil Jenkins, Barry John and the maverick Jonathan Davies? And how does he rank compared to other stand-offs in the rugby world in his generation? ForeverAScarlet
Hi ForeverAScarlet, I would say Stephen Jones has been a solid performer throughout his career, he's got the very most out of his talents and has been very consistent. Jones is what I would call a very generous player, he made others around him look very good.
He never worried about what people thought of him, he understood what was needed and when, and I'm sure he will make a very good coach in years to come. With Lions tours, Grand Slams and more, he's made and left some fantastic memories for us all to enjoy.
Hi Jerry, with England fly-half Owen Farrell out of the Italy match, and bearing in mind the Wales game a week later, do you play Toby Flood, who did a very good job when he came on against France, or do you play Freddie Burns, who offers more going forward, but who didn't play well for Gloucester against Bath on Friday? Peake
Hi Peake, Flood has to start because Burns looked so out of sorts in Gloucester's defeat at Bath, particularly with his kicking. To be honest I was a little surprised by his below-par form, but it just goes to show you can't always ease straight back into the game after injury and expect to start where you left off.
Flood has produced some brilliant cameos when coming on for England and he finished off France so well a couple of weeks ago, it would be a massive confidence blow if he wasn't selected.
David Strettle seems to be in good form on the wing at the moment, scoring in his last few games for Saracens. Do you think it's time for him to start ahead of Chris Ashton who hasn't scored in 15 tests and has been shown up a number of times in defence? (*Ed - Ashton has actually scored two tries in his last 15 Tests - against New Zealand in the autumn, and Scotland in the opening match of this year's Six Nations) smithh77
A lot has been made of Ashton's defence in the last week or so but isn't there a bigger issue with the home nations wingers in attack, with only one (Wales' Alex Cuthbert) having scored more than one try in the Championship thus far? I'm not saying defence should be neglected but shouldn't finishing outweigh tackling for a winger? Heyzeus
Hi Smithh77 & Heyzeus, despite Ashton's lack of tries and his not-so-great record in defence, I believe he should be given the opportunity to get his scoring habit back against Italy. That's not to say he's going to score a hat-trick against Italy but given fine playing conditions, Ashton would expect to have a lot more opportunities than he's had recently.
Strettle is certainly piling the pressure on. He's scored five tries in Premiership matches to Ashton's three, although in Europe Ashton has scored three to Strettle's one.
I've been impressed with Tim Visser and Sean Maitland of Scotland, who both look sharp and keen to go. Ireland's Craig Gilroy certainly has the pace for international level and England's Mike Brown has done a good job beating defenders. It's a shame Ireland's Simon Zebo got injured because he has vitality and wants to get his hands on the ball and score, while France flyer Benjamin Fall looks a quick and dangerous winger, although he has now been dropped by Philippe Saint-Andre.
The thing is they all need the ball to show us what they've got. Despite Cuthbert scoring his tries he had a shocker against Ireland in defence, but essentially I agree with you, I'm more interested in the tries a winger scores than maybe a defence I take for granted (wrongly in some cases).
Hi Jerry, with the game between Scotland and Wales being the biggest game of the Six Nations so far, how do you think Scotland will handle the pressure of going into a game knowing they could mathematically win the Championship if results go their way? Over the past 10 years they have not been in this situation. Do you think they will buckle or rise to the challenge? billywhizz14
Hi billywhizz14, I think Scotland will have gained so much confidence and belief having beaten Ireland last time out despite the Irish dominating territory and possession, but they have to understand they won't win many more games with those kind of statistics. Ireland managed to blow at least two clear try scoring opportunities but credit to Scotland, Greig Laidlaw delivered with the boot when it mattered so I believe Scotland can handle the pressure.
Both teams have had tough times recently but are on a winning run, this is a newer development for Scotland than Wales in the Six Nations. Wales' scrum looked massively impressive against Italy and if they produce the same energy they will cause Scotland enormous problems there. My gut feeling is that Wales will win but Scotland have just as good a chance in Edinburgh and will be mighty confident with that full house cheering them home at Murrayfield.
Hi Jerry, this looks one of the closest and most unpredictable Six Nations for a while, but has it been a good one in terms of the quality of the rugby played? I can't think there's many games we'll be relishing watching again. The Holy Hooker
Hi The Holy Hooker, we can't forget the opening weekend when 16 tries were scored in three great matches, and personally I've enjoyed the tournament because all the teams have different problems they are trying to resolve. The weather and some of the teams' form has dictated the more attritional stuff we've seen since (bar Scotland's win over Italy).
Wales have been concentrating just on getting those wins, not by scoring lots of tries but grinding out the victories, but the weather certainly didn't help in Italy. Ireland are going through a mini rebuilding and are suffering a lot from injuries, and continuity is hard to find in a transitional team.
Scotland are producing more than we've seen in a while, who would have thought they'd be top of the try scoring table after three rounds? Italy seem to have been physically and emotionally drained since beating France and losing their talismanic leader Sergio Parisse hasn't helped.
France don't seem to understand what they're trying to do and are scrabbling to find their form from the autumn, but with so many changes they're a bit like Ireland, still trying to find their rhythm. England seem to have found a formula to win in any conditions. We couldn't expect a try fest in the driving rain and mud in Dublin, and France slowed their ball down at Twickenham.
What are the chances of France being whitewashed this Six Nations? If that doesn't happen, which of the two remaining games do you think they'll win? TheLastKingofEngland
Hi TheLastKingofEngland, trying to predict the French is nigh on impossible. Logically I would expect them to win their game against Scotland at home but I don't expect them to beat Ireland next up, so by the Scotland game they might be in full-out mutiny mode and lose that one as well.
Hi Jerry, following Ireland's problems at fly-half and Exeter 10 Gareth Steenson's man of the match performance on Saturday in the win over Harlequins, why do you think he is never mentioned in the context of the Ireland team? Down in Devon we know how good he is. Do you think he is worth a call from Declan Kidney and what do you think he would bring to Ireland? Longshanks
How far away do you think Steenson is from an Ireland call-up? He is consistent for his club and has played himself in front of Ignacio Mieres, and would seem to be a great 10 to bring in and still allow Paddy Jackson to develop at international level. JohnnyWal
Hi Longshanks and JohnnyWal, it could be because Steenson plays in the Premiership he's being overlooked, but more than likely Ireland boss Declan Kidney sees a bit more potential in Paddy Jackson and Ian Madigan.
Jeremy, as a centre you were known for guile and elusiveness. I wonder what you think of the three-quarters in the Six Nations. There seems to me to be too much bulk and straight running and not enough elusiveness. As a Welshman, I still think Wales miss Shane Williams. malcolm
Hi Malcolm, the game has changed and there's a big requirement to get over the mainline yourselves and prevent the opposition doing the same to you, and bulk seems to win the day. There's a different kind of finesse these days. Despite most centres being reasonably bulky a lot still have the ability to side step, dummy, swerve and off-load, and produce moments of brilliance.
Watching the likes of Manu Tuilagi and Mathieu Bastareaud off-load is as good to watch as a Brian O'Driscoll pass into the future or a Luke Marshall break. We've also seen what the likes of Wales centres Jamie Roberts and Jonathan Davies can produce at their best, when they are full of confidence.
If a team doesn't have a running fly-half it will struggle to set the world alight with its backline because the defenders can easily ignore him and slide out to the rest and nullify the attack. When a team wins quick ball all that changes, quick ball is the key.
The next big development in the modern game will be to spend more time working on attack, understanding how to beat defences, recognising when and where to attack. Take what is currently seen as a big risk and work on it so it is no longer a risk because your skill and technique stand up under pressure.
Currently a lot of players aren't equipped with the wherewithal or skill to attack creatively but I feel that will change. New Zealand have an incredible backline that isn't full of monster players. It has a good blend of pace and power but they can all pass well, which is more than can be said of some teams.
Hi Jeremy G, have you thought of trying some coaching? You talk a lot of sense and have got a good rugby brain. Even though I'm Welsh I've always been a fan of yours and a coaching job would be a smart move for you - probably a club first for a few years then try international, because I think you would be very successful as a coach. planetrugby
Hi planetrugby, thanks for your kind words. I haven't got the gonads to coach professional rugby, that's why I'm a pundit.