Halani Aulika 'living the dream' at London Irish
Last updated on .From the section Rugby Union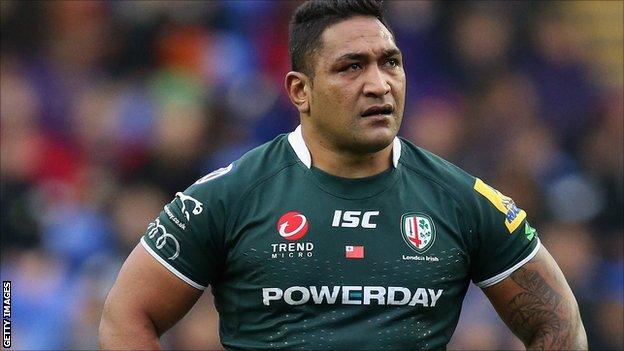 Just three years ago London Irish prop Halani Aulika was overweight and kicking his heels.
As recently as 2009, however, success as a professional looked unlikely.
Aulika admits that before he started playing rugby he was "overweight, eating and drinking too much", but that conversation with All Blacks hooker Keven Mealamu offered him an olive branch.
"His brother [Luke Mealamu] was coaching one of the clubs in Auckland and they tried to get me to go to training to lose some weight," the 29-year-old told BBC Radio Berkshire.
"They came to pick me up and forced me to start training. I used to be 152 kilos [he is now 122kg].
"I was lazy, I was overweight, I knew what it would take to be professional and always in the back of my mind wanted to be professional and make a life out of playing rugby.
"And then I started playing and losing weight and I realised I could do it. I was 27 or 28 and I wanted to be someone young players looked up to and hopefully they will learn something from me.
"It was hard with the food - I love food and that was the hardest thing. My family love eating. They are all oversized but when I started my career I started eating healthily and helped them by telling them what food they should or shouldn't be eating."
Aulika has been capped eight times by Tonga, making his debut in August 2011 in the World Cup warm up fixture against Fiji, having only become professional in 2010.
And he says he is relishing every minute of London Irish's season and hopes to inspire others to take up sport and lead a healthy life.
"I'm living the dream," he said. "Now I can run with the ball rather than walk with it. This is a good thing, I feel good and I'm so happy.
"I came over to England because you play more rugby here, learn more stuff and it is a good experience to move away from home and try and live the high life. I'm meeting new people and making new friends, I'm sending money back home and helping them.
"I hope people in Tonga look up to me - I'm learning new things. If you have a dream, don't give up on it, just keep going until you get it. That's what happened to me. I had a dream, I gave up, but then I got back into it.
"Here I am, playing the game I love and it's a good feeling,"
Aulika now says he hopes to feature in one more World Cup for his country and continue to do them proud.
"I want to play another World Cup for Tonga, and play some more games for my country and make my family back home happy," he added.
"You are playing for your people and your country and you are doing it to make everyone back home proud."
Halani Aulika was talking to BBC Radio Berkshire's Jenna Hawkey.