Six Nations: Mako & Billy Vunipola look to make England impact
Last updated on .From the section Rugby Union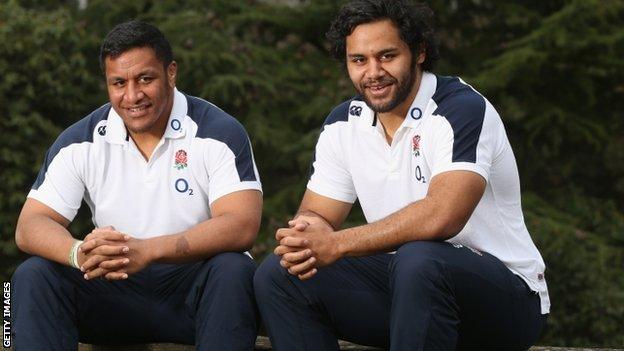 Mako Vunipola is set to be given his first start for England in the Six Nations clash with Italy on Sunday.
The Saracens prop is expected to start ahead of Joe Marler at Twickenham after consistently making an impact in his seven appearances as a replacement.
And the 22-year-old could even play with younger brother Billy, who is in the England squad for the first time.
"That's the dream for us to be out there together for my family. Hopefully one day that will happen," said Mako.
Mako, who missed the majority of last season with a broken foot, is desperate to get his first full start, but with a possible Grand Slam to play for he has been patiently waiting for his opportunity.
"To get a first start would be something special and especially at Twickenham, it would be a great occasion for me and my family," he told BBC Radio 5 live.
"It's always hard to be on the bench, but obviously we know as players that it's still a massive thing and we've got a job to come on and make an impact.
"Hopefully I've made an impact every time I've come on, but I know I've still got a lot to learn and I'm happy to learn off the players we have here."
Mako, who was born in New Zealand, and Billy, 20, born in Australia, are sons of the former Tonga captain Fe'ao, but both could have played for Wales alongside back-row cousin, Toby Faletau, from Tonga.
"I think we owe a lot to the people in Wales who helped us get our residency in the UK," said Wasps number eight Billy.
"I think our dad feels a bit of loyalty towards the people in Wales, but for me and my brother to grow up in England, playing all our adult rugby in England, it feels right and that's how we both feel.
"We keep telling our dad that and he's accepted it."
Younger brother Billy has been given advice by his elder sibling on etiquette around the camp, and is finding it a smooth if testing transition from club rugby.
"The boys are massively accepting, really nice," said Billy. "They always try and include me in conversations even though I don't know what they're going on about!
"In training, I think the biggest thing is the pace. Everyone is much faster and they run a lot further; the skills are a bit higher as well."
And should the Vunipola brothers go on to secure places in the England team, the celebrations will go well beyond the country's borders.
"It would be unbelievable, not only for me but for my family and the work we've put into it," said Billy.
"It would be great to run out with him, and obviously to play for England would be an honour as well. The family would love it - I think most of Tonga would love it."