Six Nations 2013: Phillip Matthews on Ireland v France

By Phillip Matthews
Former Ireland captain and BBC Six Nations analyst
Last updated on .From the section Rugby Union85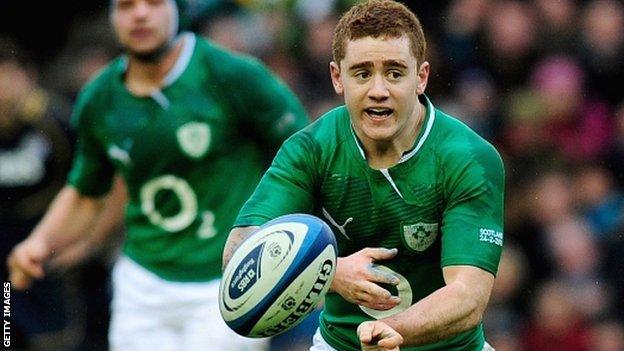 At the outset of this year's Six Nations, Ireland's clash with France in Dublin was being touted by some as a potential Championship decider between two of the tournament favourites.
Instead, with Ireland having won only one out of three and France having lost all their games, Saturday's encounter has become more of a scrap to avoid contesting the Wooden Spoon in the final round.
Former Ireland captain Phillip Matthews, part of BBC Sport's coverage at the Aviva Stadium, assesses the issues facing the hosts.
Was Declan Kidney right to drop Ronan O'Gara?
Declan Kidney left himself with little or no option but to drop Ronan O'Gara, given what transpired against Scotland. What I'd be asking, if I was Kidney, is: "Could this have been managed differently?"
O'Gara has been an icon of Irish rugby, is close to the hearts of so many supporters and they would have loved to have given him a standing ovation with 20 minutes to go in a match at Lansdowne Road.
O'Gara would have liked to have designed the way he bowed out, but as an athlete you always run the risk of giving that decision to somebody else rather than making that decision yourself.
But when somebody is as strong mentally as O'Gara and has so much belief in himself, it's difficult to say: "I still believe but maybe the time is right to hang them up."
O'Gara being dropped is part of a wider theme of the need to bring in younger players with talent and not just wait for older players to fizzle out. The understudy to Jonathan Sexton last year should maybe have been somebody who was going to be there until the next World Cup.
Neither Leinster's Ian Madigan nor Ulster's Paddy Jackson had any bench time before this season and Ireland were relying on Ronan beyond his useful time.
In the early part of O'Gara's career it was him and David Humphreys who were vying for that fly-half spot and Sexton then vied with O'Gara. It's unfortunate that Sexton has been injured, Jackson has been thrown in and he hasn't had an in-form O'Gara to help him through it.
It's a very public and difficult way to learn but Jackson has the talent, he has the class, all he needs is place-kicking experience under pressure.
How is Jamie Heaslip coping as captain?
My own situation was very similar to Heaslip's when I was first made captain. The existing captain, Donal Lenihan, was still in the team and it weighed heavily on me that first year, I wasn't the player I was.
Jamie was put in a very difficult situation: to say no would have been a tough thing to do, it's the type of thing you've got to say you're proud of doing.
But the enormity of it has been fairly apparent. It's difficult to know how to captain a side that has already got Brian O'Driscoll in it and I think both Kidney and Heaslip under-estimated the weight of it.
But knowing Heaslip he will learn from it and be stronger and better for it. The best lessons are those that are most difficult to learn.
Should Kidney be retained as head coach?
If the Irish Rugby Football Union don't have a succession plan then it would be wrong not to renew his contract after the Six Nations without a viable alternative.
There are good, young Irish coaches out there like Harlequins' Conor O'Shea and Saracens' Mark McCall who are probably five years away from even wanting to be considered for the role. Therefore the best plan would probably be to give Kidney a short-term extension and involve him in the succession.
Is Irish rugby in crisis?
For all the talk of O'Gara and Kidney and Ireland's disappointing Six Nations, Irish rugby isn't in crisis - absolutely not.
The media like to go hyperbolic but we've got seven or eight players injured and the difference between winning and losing at this level is a pass caught or a kick missed: against Scotland, if Luke Marshall's pass to Craig Gilroy had gone to hand or one more kick had gone over I'm quite convinced Ireland would have won by 20 points.
Irish rugby is very healthy. In the past it was Munster, then it was Leinster, now it is Ulster who are bringing lots of young talent through. What Ireland need to do is bring that youth through in the right way and at the right time and make sure it's developed and not squashed. I'm not pessimistic at all.
Will Ireland have too much for France?
Saturday's game will be a real desperate, psychological battle: whose resilience will be the strongest and who will be the most fragile?
At times in the past, Ireland have struggled to match French physicality. But I'm sure if they meet that challenge in Dublin, learn the lessons from the defeat by Scotland, take the chances they create, then they will have enough to win it.
If Ireland get on top early there is a very strong chance French heads will go down. To have lost five Championship games in a row for the first time since 1958, there must be discord in the France camp. Ireland's challenge is to turn those cracks into crevasses and split the visitors in two.