Lions 2013: Lions will have 'huge advantage' - Robbie Deans
Last updated on .From the section Rugby Union160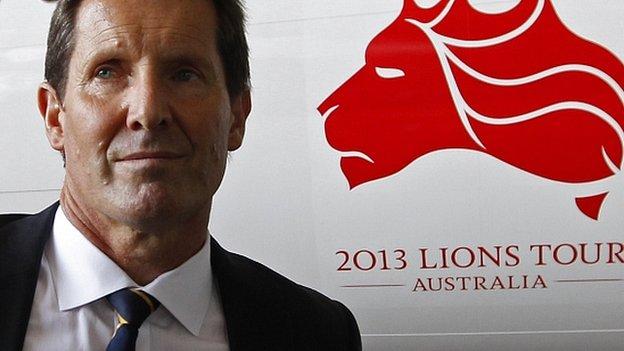 Australia coach Robbie Deans says the British and Irish Lions have a "huge advantage" in preparation for the first Test of the series on 22 June.
Deans will have three weeks, but no matches, with his players, who will play no Super 15 games after 2 June.
"There's no doubt that the Lions will have a huge advantage in terms of entering the series," Deans said.
"You go back to 2001 [the last Lions series in Australia, which the Lions lost 2-1 after winning the first Test] and the Wallabies had similar time (to prepare) but with a (warm-up) game, so it was obviously a more complete prep and they got spanked in the first Test.
"[Former Australia coach] Rod Macqueen openly conceded that (the 2001 team's) preparation wasn't adequate, and he's genuinely concerned by what we're confronted with."
The Lions play four of the Australian Super 15 provinces - Western Force, Queensland Reds, NSW Waratahs and ACT Brumbies - as well as a combined New South Wales/Queensland XV before the first Test.
The Australian Rugby Union has "quarantined" Test players from Round 17 of Super Rugby, when the Brumbies play the Melbourne Rebels (7 June) and the Force play the Waratahs (9 June), and Deans is unapologetic, despite the provinces' protests.
"It will still be the shortest preparation in the history of the game for a Lions series so we will want the group with us to prepare solely," said the New Zealander, who believes the Six Nations has highlighted the depth of talent available to the Lions.
"They've got a tough job selecting their group," he added. "A year ago the Welsh were the Grand Slam champions; it looks like the English will be the Grand Slam champions this time around.
"You saw the form of England at the end of last year. We knew having played them what a good side they were and then the whole world knew a week later when they tipped over the All Blacks.
"And then you get to pick the best out of the other combinations to add to that, and you end up with a pretty capable group."
Lions tour manager Andy Irvine says the final two rounds of Six Nations games are "absolutely crucial" in the tourists' selection process.
"Things are very wide open - I don't think there are all that many certainties pencilled in," he said. "There are a number who are highly likely to go, but certainties would perhaps be a bit too strong."