Six Nations 2013: Richard Hibbard motivated by Scott Johnson jibe
Last updated on .From the section Rugby Union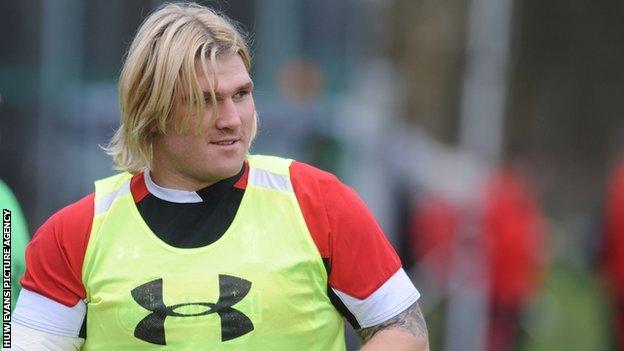 Richard Hibbard has thanked Scotland interim coach Scott Johnson for providing the "kick up the backside" that has spurred the player to become Wales' first-choice hooker.
While still Ospreys boss in January 2012,
The criticism hurt Hibbard but, ahead of Saturday's Six Nations clash at Murrayfield, admits it worked.
"He did what he needed to and it got a reaction out of me," said Hibbard.
At the time the 29-year-old British and Irish Lions prospect reacted publicly to Johnson's observations with a series of self-deprecating messages on Twitter entitled "Diary of a Fat Kid".
Hibbard now admits to feeling offended and confused by Johnson's words, but acknowledges the events that unfolded in their wake have worked in his favour.
The hooker starts for the third successive game on Saturday having never made two consecutive appearances before the current campaign since his 2006 Test debut against Argentina.
"I loved Scott and I always got on well with him, except for that one incident," said 21-times capped Hibbard.
"I thought he was great, he could be a riddler in certain aspects, but he was really good.
"When I read the headline, you take it to heart and the banter after it is the worst as the boys will kill you and it is relentless.
"But it gave me a kick up the backside, I dropped a few kilos and I started doing extras after training with [Wales prop] Adam Jones, as we both tend to struggle in that area.
"It has paid dividends. When I went to speak to him about it, he said it was taken out of context and I knew it hadn't been as it was shown on TV!
"I went in the office and came out confused as he made me feel I was in the wrong.
"But I don't hold it against him, if that was his feeling then fair enough."
Hibbard had been expecting "mind games" from Johnson ahead of Saturday's encounter.
However, he says Johnson will be wary of a Welsh tight-five who the Australian "built his Ospreys team around".
Hibbard, tight-head Jones and locks Ian Evans and Alun Wyn Jones are joined by in a side led by another Osprey in blind-side flanker Ryan Jones.
"I am very comfortable with Paul James and Adam Jones either side of me and I have two very powerful second rows behind me," said Hibbard.
"We have been comfortable as a team with that kind of pack over the last few years and hopefully we can be strong there on Saturday.
"Seeing our team, Scott will be concerned as it was the pack he built his Ospreys team around, and he knows what that front five can offer and what it has done for him.
"He knows they will need to be on their game... but it would be a massive victory for him to get one over on Wales."
Saturday's losing team will be out of the running for the title and only England, who face Italy at Twickenham on Sunday, can win the Grand Slam.
In the final round Wales host England on Saturday, 16 March while Scotland travel to France and Ireland face Italy in Rome.