Six Nations 2013: Coach Neil Jenkins happy for Wales 3-0 win
Last updated on .From the section Rugby Union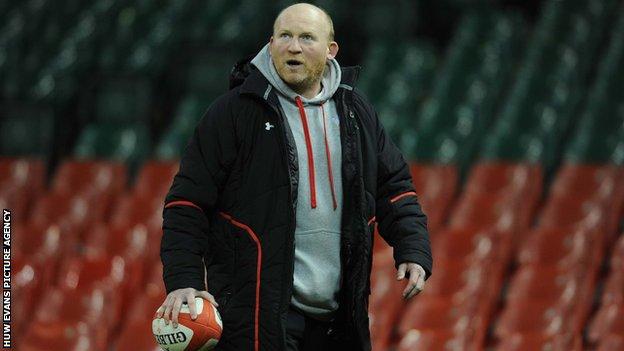 Coach Neil Jenkins says winning is the only thing on Wales' mind when they face Scotland at Murrayfield.
The Wales skills coach claims he would be happy to come away with a 3-0 victory against the Scots.
A win for either side would keep them in the hunt for the 2013 Six Nations title.
"It doesn't matter how you win, if it's 3-0. It's not great for spectators, but the reality is that is what it's all about at Test level," said Jenkins.
Wales and Scotland, who are two points behind Grand Slam-chasing England, both have their own title ambitions.
Wales can deny England a prospective Grand Slam in Cardiff next week, but if they beat the Scots they will also keep themselves in the Six Nations title race.
Wales have won their last four away matches, and are aiming for an unprecedented fifth consecutive Championship victory on the road.
Wales have won on three of their last four visits to Murrayfield, but Jenkins claims Wales are taking nothing for granted the clash in the Scottish capital.
"It's nice to play good rugby, nice to win games and express yourself when you play," said Jenkins.
"The Welsh way is to play with ball in hand, but when you come down to it, it's all about winning.
"It doesn't matter how you win, if its 3-0, it's not great for spectators but the reality is that is what its all about at Test level.
"We have played some good rugby in the two tough games we have had so far, but we have won and that's what its all about.
"We had eight defeats on the bounce and just losing by small margins and at Test level it's very thin margins. Obviously, it has gone our way in the last two games."
Wales, who have won their last two games with a 16-6 win against France in Paris and 26-9 victory over Italy in Rome, have lost only one of their last eight Six Nations games and that was against Ireland on 2 February.
Scotland are aiming for a third consecutive Six Nations win.
They haven't won three in a row in the Championship since 1996. They last won three in the same campaign in 2006, the only time they have done so in the Six Nations.
Wales have won the last five meetings between the sides and Scotland's only win in their last 10 matches with Wales was a 21-9 victory at Murrayfield in 2007.