Six Nations: Tom Croft 'to get stuck in' on England return

By Tom Fordyce
Chief sports writer, BBC Sport
Last updated on .From the section Rugby Union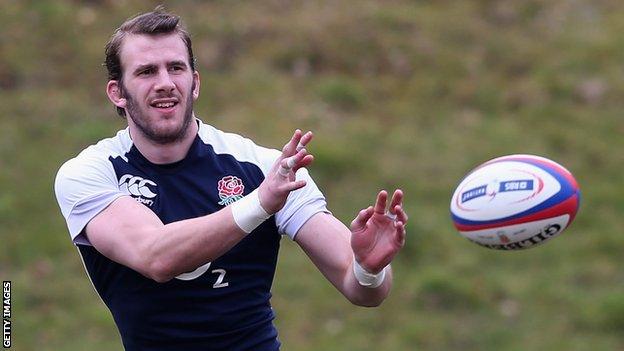 England flanker Tom Croft says he will face his Six Nations return without fear despite being within millimetres of being paralysed in the accident that almost ended his career.
He said: "You have to get stuck in. If you do not, you're more likely to get injured. You're better off going all in and finding out yourself.
"I'm aware of my neck, so I warm it up well, and I've altered the way I prepare in the week before a match. But in the game you just think about the game. You don't think about the injury."
Croft had a four-inch metal plate, four screws, and a metal cage surgically inserted around his C6 vertebrae, a procedure which saved his career and possibly much more.
That metal, which will stay in place for the rest of his life, was enough to set off the alarms as he went through airport security on a recent trip to New York.
He said: "When I saw the surgeon the second time, he told me it was as close as you can come to being paralysed.
"It's a pretty depressing subject. I probably didn't need to be told - I'd taken my surgical collar off, was feeling all upbeat, and then he told me that.
"But it was always, right, when can I get back? It was never, 'should I?', it was always, 'when?'."
Croft had so few expectations of an international recall this month that he was on the point of booking a holiday when he received the phone call from England forwards coach Graham Rowntree.
But he will be on the bench when England face Italy at Twickenham on Sunday and is likely to see significant second-half action as Stuart Lancaster's men seek the win that would take them into a final-day Grand Slam decider in Cardiff in on Saturday, 16 March.
He said: "When you see a side going well, you don't expect them to make many changes. It's great to be re-joining a side that's playing well.
"I was watching the autumn internationals going past, then I was watching the start of the Six Nations going past. And that was frustrating.
"When England beat the All Blacks, we were watching in the clubhouse at Leicester, and it was, 'Blimey, England are pulling New Zealand apart!'. And there's frustration that you're not involved. You want to be part of it."
Croft admitted that he was inspired through his long lay-off by the example of Matt Hampson, the former Leicester prop who was paralysed from the neck down in a scrum accident on England Under-21 duty eight years ago.
The accident left Hampson a quadriplegic, unable to breathe without a ventilator, but he has since established himself as a fund-raiser, writer and coach and remains heavily involved in the game.
"Hambo is the most upbeat character around, especially bearing in mind what happened to him," said Croft.
"He came through it and achieved massive things. It gave me hope that, if something did happen, then it's not the be all and end all. I haven't had to deal with it, but it gives you comfort - we play a contact sport, and these things can happen."
Croft was offered the services of a psychologist to help him with his return to full-contact rugby, but put his faith instead in the old-fashioned virtues of muscle and resolve; after losing five kilogrammes following the operation, he has now put nine back on.
"I wanted to deal with it by myself," he said. "If you're in a game and it's not going well, the last thing you want is someone on the side telling you what to do.
"For my own head I wanted to put weight on. Whether it was going to help or hinder my performance, it was purely about me having more size - going into contact situations, having a little more weight behind me, having a bit more padding behind me.
"Post-games at Leicester the physios have asked how the neck is. I've said, 'Fine, it's the rest of my body that's slowly falling to pieces'."