England fly-half Toby Flood backs Chris Ashton to find form

By Tom Fordyce
Chief sports writer, BBC Sport
Last updated on .From the section Rugby Union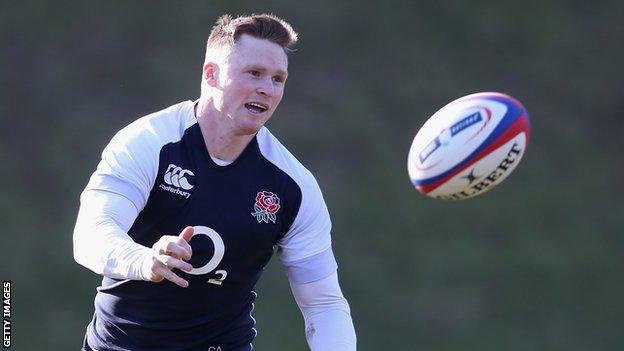 England fly-half Toby Flood has backed under-fire team-mate Chris Ashton to come good when they continue their Grand Slam bid against Italy on Sunday.
Flood told BBC Sport: "Chris burst onto the scene and had the ability to pop up anywhere, but teams picked up on that.
"But like a frustrated goalscorer, he'll get one try, then two, and suddenly he'll feel very happy."
Ashton has been criticised for missing a tackle against France which led to Wesley Fofana scoring a try, but Flood believes Ashton has the character to impress against Italy.
"When people realise what you're doing and they spend time on the video trying to work you out, life becomes harder," he added. "That's part of the reason why now he's a little bit frustrated he can't find the same space.
"Chris is dealing with that really well. I know there's been a lot of stuff thrown at him in terms of press and public viewpoints. But for us he's still a lethal finisher and a guy who can break open a game. We've got utmost faith in him."
Ashton's statistics from the three matches in the Six Nations so far do not compare favourably to those of other wingers.
His 240 minutes on the pitch have brought one try and an average gain of 2.1 metres with ball in hand, and he has not beaten a single defender.
Wales's Alex Cuthbert, at the same stage, had beaten nine defenders, scored two tries and averaged 7.2m per carry, while Scotland's Tim Visser was averaging 12.8m and had beaten four men for his try before their game against Wales on Saturday.
But Flood insists the Saracens player's confidence has not been dented by either performance or criticism.
He said: "The great thing about that is that Chris is dealing with it internally. If someone goes back into their shell then there's a case of looking out to see if they're alright. But he's still as exuberant as ever.
"I don't think he has a huge amount of emotional intelligence about where he sits; he's still the loudest man in the world, he's still playing pool, running around and playing darts and all sorts of stupid things. That's just the way he is."
England will begin as favourites against Italy, not just because they are the only unbeaten team left in the championship, but because of their total historical dominance.
They have won all 13 of their' Six Nations matches with Italy; the aggregate score between these teams in six matches at Twickenham is 274-66, with England averaging six tries per game.
Two years ago Flood's passing was instrumental in Ashton's brilliant haul in the corresponding fixture.
With the Leicester man recalled in place of the injured Owen Farrell, both are clearly hoping that the combination can fire once again.
Flood said: "It was a case of his rugby brain and me seeing the space. It's our awareness. Chris and I have a good relationship. I understand what he wants and vice-versa.
"Chris will work incredibly hard off the ball, so he's always going to be an option for you.
"Against France he took a flick inside from Ben Youngs - he has manipulated that space, he's called that, and he's very unlucky not to go through.
"Guys are making desperate tackles on him at the moment. I'm sure he'll see a chance, go through a big hole and release himself."
Flood, England's most experienced player despite being just 27 years old, is one of the few men in the squad left from the side's last tilt at the Grand Slam, two years ago.
Back then the team were unceremoniously duffed up by Ireland in their final match, their hopes blown away by an inspired Irish first half.
And Flood is hoping that the lessons of that reverse - Martin Johnson's team never quite looked the same again - can be absorbed by the fresher-faced class of 2013.
"There was always that idea of us being overconfident going into Dublin - I think we always knew the challenge, but some of us were of the mind that we could manage the game until the last 20 minutes and then push on, pull off the win.
"But we were out of it in the first 15 minutes, and having been bitten like that is a great learning curve.
"We have mentioned it [the Grand Slam]. We haven't avoided talking about the feasibility of it, because it could be on the horizon.
"Two years ago we had Scotland here and we played pretty poorly. We were very lucky to come out of that game. We can't allow that to happen again.
"There is a better awareness that focusing on what we do now will help us to be where we want to end up."
At the start of their Six Nations preparations the England squad were given a talk by Tour de France winner Bradley Wiggins.
Wiggins, a keen supporter of rugby league club Wigan, left an impression on Flood and his team-mates that may yet help push them to their own pinnacle.
"It's all about a week-by-week focus," said Flood.
"Bradley talked about how you break things down and compartmentalise. Those weeks are so important for the future - 'yes I know the Tour de France is there, but I have to get Paris-Nice right, I have to get the Dauphine right, that's how I get there'.
"That was a really interesting thing for us to deal with, because this is the Six Nations - eight weeks long, it has fallow weeks, and you have to use those to kick on.
"It was interesting to hear him say that some days he can't be bothered doing it. Because it's true. It sounds terrible, but some days you think, ah, it's raining, it's miserable.
"But you get someone to get you right, you get yourself out there and you get yourself motivated. Because if you have three missed sessions, it will hurt you."