Six Nations 2013: John Beattie wonders where fair play has gone

By John Beattie
BBC Scotland
Last updated on .From the section Rugby Union182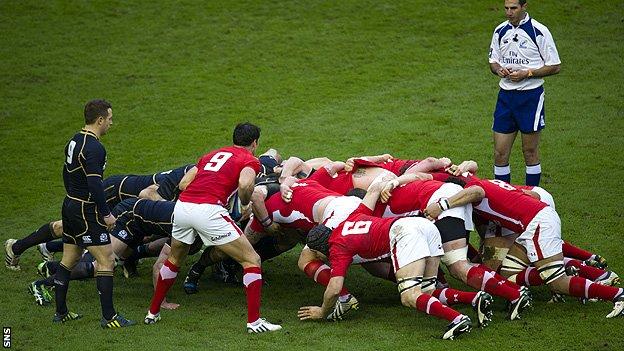 Professionalism is bringing more disappointing aspects to rugby every year.
Winning becomes ever more important.
Rugby players have become so cute at duping referees that all we seem to see are what we imagine to be refereeing errors.
That's cute, as in a cleverly-crafted Mafia sting rather than the association with any bunny rabbit.
If you watched Scotland's disappointing game against Wales on Saturday, like me, you will have been perplexed come scrum time.
I was just thinking - if I was going to cheat in scrums what might I get up to? Well, sometimes I would collapse a scrum even if my pack was going forward.
Surely proof, ref, that the weaker side had deliberately gone down to prevent further embarrassment?
And then, knowing that referees are so strict on penalising an early "set" it might be fun to not even go down on the "set" call so that it appears as though the other lot have jumped the gun.
It's called a "soft" hit.
I am guessing that both Wales and Scotland over the years have tried both of these tactics.
Referees blow the whistle for what they see.
I am convinced that the only way to stop all the nonsense is to have both packs engage gently with the front row first, followed by second row, followed by back row and the ball only put in at a steady scrum.
No "hit", no "set", no guessing games from the referee and, instead, a yellow card for the front row union once they ruin our game.
See how they like it when they are off the pitch. Two collapsed scrums - up or down - mean the game has been ruined in my book.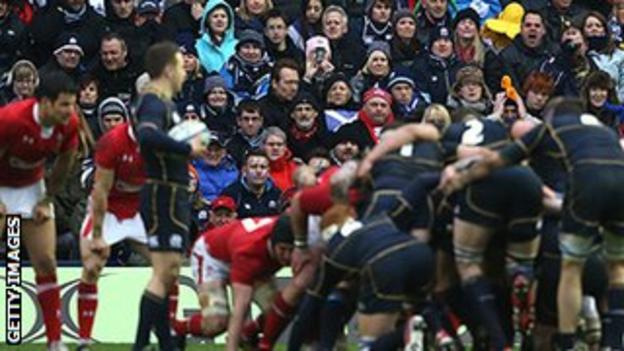 Why anyone wants to sit through a series of scrum collapses and penalties is a mystery to me. That game on Saturday was terrible.
I think there was only one scrum in the whole game that ended in one of the teams winning the ball. The rest were penalties.
And Richard Hibbard admitting to soft hits in a Sunday paper was sad, or at least in part an admission that things have gone awry in rugby.
The other strange aspect to rugby, quite audible through the referee's microphone, is the attempt by players to influence the man in the middle nowadays.
"He's got his hands on it, ref," can be heard alongside "forward pass" and "not releasing" and a host of other friendly hints designed to win a penalty.
Captains wish a quiet moment or a word of advice too often.
Captains, or any player for that matter, should be given a word of advice that a quiet moment should be spent as far away from the referee as possible or it's a yellow card.
I'd penalise any player suggesting anything to the referees.
Brian Moore, rightly, spotted a player in a recent international diving as if auditioning for Tom Daley's "Splash!" programme.
Rugby was the game of fairness, where people didn't cheat (that much) but it's getting closer and closer to football. And I don't like those bits of it.
Apart from that it's still the world's best game.
My thoughts on yesterday?
We kicked away a lot of ball, came off second-best at the tough stuff, and the Welsh adherence to a pattern worked well for them.
They added a frisson to the occasion with their pick-and-go game that caught the Scots off-guard.
Jim Hamilton nicked a few lineouts but there were very few plus points for Scotland. And it wasn't just scrum-time that beat the Scots.
Bring on the French. What did you think?