Plymouth Albion boss Nat Saumi to leave at end of season
By Brent Pilnick
BBC South West Sport
Last updated on .From the section Rugby Union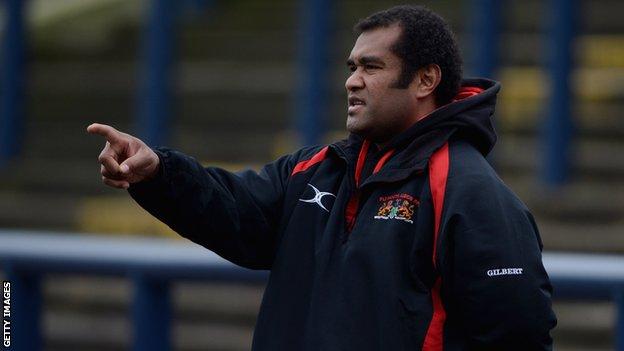 Plymouth Albion will not renew the contract of head coach Nat Saumi when it expires at the end of the season.
The Fijian has been in charge at the Brickfields since in February last year.
"Nat and the board have been considering the way forward for next season," said Albion's acting chief executive Debbie Fisher.
"As a result, Nat has confirmed that he's not going to continue beyond the end of this contract on 30 April."
Albion suffered a club-record ninth successive defeat on Saturday and are ninth in the Championship.
after Plymouth when they not able to afford his wages because of major financial problems.
Drewett had only been in the job for a month having replaced Graham Dawe, after the former England hooker was
"We're eternally grateful for Nat stepping into the breech in a very difficult period in Albion's history as they fought both financial troubles and relegation at the end of the season," Fisher told BBC South West Sport.
But results on the field mean that that club felt there was little choice but to look elsewhere.
Plymouth last won a game in the Championship in November when they beat London Scottish, and but for a run of four wins out of five games at the start of the season, would be close to the bottom of the table.
"Those factors have come into the board of directors' thinking and also Nat's thinking," Fisher said.
"I'm sure any coach wants to do his best by his club and we'd like to be here in a play-off position with a whole different set of circumstances.
"There is also a matter of pride when you're coaching a team and if you're doing all that you can and it doesn't seem to be enough, then you have to make decisions and that's what's been done."
Fisher says the club is already beginning their search for a new head coach to replace Saumi next season.
"We've had a number of people step forward and offer their services," she said.
"We need to start that process very rapidly now and see where we want to go.
"We'll be gathering CVs and résumés and taking it forward very rapidly from now on."