Six Nations 2013: World Cup place within Wales Women's grasp says Evans

By Non Evans
Former Wales full-back
Last updated on .From the section Rugby Union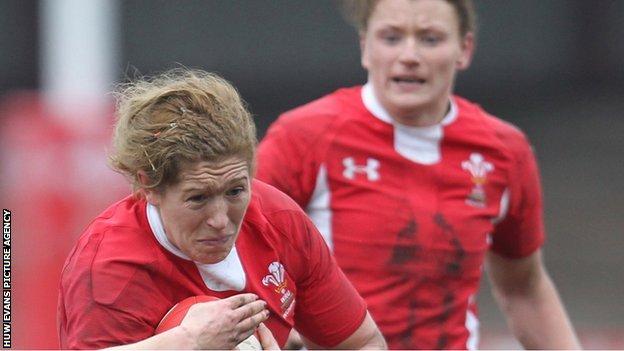 Wales Women's was a good win in very, very poor conditions up in Scotstoun.
There were blizzards, a huge wind and they did very well just to tough it out and get the win under their belts.
They were under a lot of pressure in the first half and scored two late tries, but it was the win that was all-important because they've moved into fourth spot in the table - just above Italy.
So they still haven't quite qualified for the 2014 World Cup in France but it's one step closer.
It will come down to points difference probably, because Ireland should beat Italy convincingly next week in the final round of the Six Nations and I think England will probably beat Wales.
I think it's been mostly about World Cup qualification for the whole campaign, to be honest.
Wales had a very good game against Ireland first game of the championship and Ireland have gone on to win the championship.
They and then they've and Scotland, but I think the main aim this season was to finish in that top four and qualify for the World Cup.
Hopefully they will have done enough and they can take some confidence going into the England game.
England haven't had a particularly good season, 17 of their best players are out playing in the Sevens and they have lost a couple of games, so hopefully Wales can give them a run for their money.
Ireland have won the championship already, the first time ever, and they'll want to beat Italy. In the women's game home advantage is huge and Italy always play well at home just like the men do.
But Ireland should win, we'll be hoping they put a lot of points on them and hoping Wales don't concede a lot of points against England.
Although England are quite a young side, they beat Scotland by nearly 80 points in the first round of the championship and once they score a few tries and get their tails up the floodgates can open.
Katy McLean should be back at fly-half for England. She's come out of the squad and she's [normally] the captain of the side, and she's a very good fly-half with a good boot on her as well.
But it's in Aberavon and hopefully Wales will have a big crowd down there, and England are there for the taking really - they've lost two games this season for the first time in... well, ever I think in the Six Nations.
So if Wales can play really well and make the home advantage count I think they can give England a run for their money.
Non Evans was speaking to BBC Wales Sport's Bruce Pope