Six Nations 2013: Wigan warriors set for Six Nations clash
By Simon Roberts
BBC Sport Wales
Last updated on .From the section Rugby Union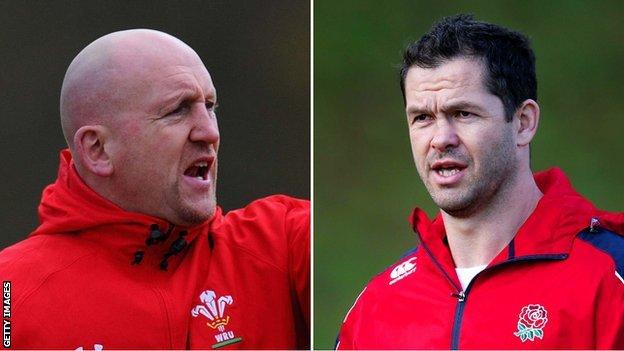 It's not often that a smile breaks across the face of Wales defence coach Shaun Edwards, but it does when the name of Andy Farrell is mentioned.
Edwards's naturally intense demeanour, which appears to intimidate even his own players, quickly evaporates when he talks about his former Wigan rugby league team-mate who is now England's rugby union skills coach.
Due to their unique shared history, there is respect and genuine affection.
Both are from Wigan, and both played for their hometown rugby league club as teenagers. Between them they made 837 appearances, shared 26 trophies and represented Great Britain 70 times.
And if playing is not enough, they are now proving their credentials as coaches in a rival code. The pair also have an OBE each.
But on Saturday, they will find themselves on opposing sides, plotting each other's downfall as Edwards and Wales host England and Farrell in a clash for rugby union's Six Nations title at Cardiff's Millennium Stadium.
Still the plot thickens, with Farrell's son Owen hoping to return from injury as England fly-half.
England can win their first Grand Slam since 2003 if they beat Wales, but know they can still claim the title if they do not lose by more than seven points.
Wales, meanwhile, know they have to beat England by eight points to win the Six Nations.
Edwards's respect and affection for Farrell and Wigan is obvious as soon as he starts talking about the 2004 rugby league Golden Boot award winner, which is bestowed on the best player in the world.
"When he first came into the Wigan team he was probably the most mature 17-year-old I had ever come across," said Edwards.
"I have known Faz since he was 12 and I always knew he was destined for greatness as a player. He had great knowledge of the game, even when he was 17."
He recalls Farrell becoming the youngest player to win a Challenge Cup final when Wigan beat Widnes in Wembley in 1993. The teenager had shared a room with his club and New Zealand rugby league captain Dean Bell.
"They had Dean Bell room with Andy to look after him," said Edwards
"The morning of the game Dean is being sick with nerves and Faz is saying: "Don't worry Dean, we will batter these, mate. And he was the captain of the team!"
The story and the sight of a fresh-faced Farrell telling a rugby league warhorse like Bell not to worry before they headed to Wembley clearly hits the mark for Edwards even today and he can hardly contain himself as he conjures up the image in his mind.
Farrell's first memory of Edwards, who signed for Wigan for £35,000 - the largest fee for a schoolboy player at the time - is of watching his future team-mate from the stands in Central Park.
"I saw him make his debut as 17-year-old. He was a big signing. Everybody wanted him and I could see why," said Farrell.
"He was involved in a fantastic Wigan side which I was lucky to get on the back of."
But what is it about Wigan and the oval ball? Not only is Farrell's son Owen in the England squad, but another former Wigan player - Chris Ashton - is on the wing, while big things are expected of Saracens' Joel Tomkins, who also turned out for Wigan.
"If you look at the England side, they have a lot of Wiganers in there, don't they?," said Edwards.
"It's almost an academy of Wigan. You have young Faz playing at 10 for them, Ashy on the wing and Joe Tomkins is knocking on the door of England selection. It's quite a hotbed of rugby talent, is Wigan."
Edwards's last remark is probably the understatement of this, or any other year, but it's apparent his legendary competitive streak has rubbed off on Farrell senior and he has passed it onto the next generation of rugby talent from Wigan.
"Shaun was a born winner and that is how he was brought up," said Farrell. "It's how we are all brought up in Wigan, hopefully."
Edwards and Farrell's renowned professionalism will be evident when both of them put their sides through their pre-match routines before the 17:00 GMT kick-off on Saturday. There might be a nod or a wink, but not much more.
"We will have a beer after the game and we are both professional enough to keep our distance at the start," said Farrell.
One of them will enjoy that beer more.