Hayden Smith's journey from Saracens to New York Jets
Last updated on .From the section American football40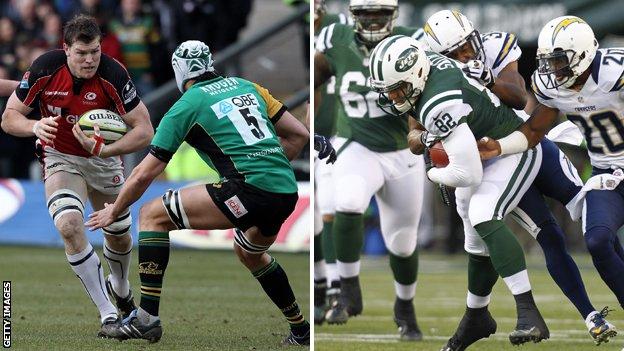 It is a common memory of most of our schooldays - the kid who was uncannily good at every sport.
But beware of boasting about your multi-talented mate in front of anyone from Blue Mountains Grammar.
Hayden Smith left the school on the outskirts of Sydney in 2002 to take up a university place in the United States on a basketball scholarship.
But, with time to kill between the end of his studies and graduation, he started playing rugby union at a local club in Denver.
Just three years later, he was part of the Saracens side that won the Premiership title, before starting all four of the United States' matches at the 2011 Rugby World Cup.
The latest leg of his sporting journey has taken the 27-year-old to the New York Jets in the National Football League - less than a year after donning pads and a helmet for the first time.
While Smith emphasises the hard work involved, his matter-of-fact description of his career makes it sound as straightforward as a series of teenage summer jobs.
"It was just before the World Cup that I had a bit of interest from a few NFL teams," he told BBC Sport of his latest switch.
"I felt it was something that I was very interested in so I sat down with an NFL agent, went through my ambition with him and we worked up a plan."
As with all of Smith's sporting endeavours to date, it went rather well.
After meeting team officials at January 2012's Senior Bowl try-out for draft hopefuls, Smith shuttled between US airports for trials with the Dallas Cowboys, the Washington Redskins, the New Orleans Saints, the Philadelphia Eagles and the Jets.
The speed and agility with which he shifted his 6ft 6in, 18-stone frame convinced the Jets to offer him a deal. But, having turned his back on a top-level career in one sport, Smith had still to get his hands on an American football in anger.
"The first time I played was when I arrived at the Jets. My feel for the game was, as you might expect, not particularly good," Smith adds.
"In rugby, you are either jogging or running over to the play, but in the NFL you have to be explosive off the mark.
"Everything is about going from a static stop to 100% as hard as you can for really no more really than 15 seconds. There is a lot less emphasis on conditioning and more on speed and power."
In those early days, Smith would arrive at the Jets training facility at 05:30 and leave at 19:30, six days a week, as he reshaped not only his body, but also his mind.
The few rugby players who have made the switch to American football have usually concentrated on bringing skills with them rather than learning new ones.
Former British and Irish Lions stars Terry Price and Gavin Hastings took their penalty-kicking prowess to the Buffalo Bills and NFL Europe's Scottish Claymores respectively, before scouts from the San Diego Chargers took an interest in Jonny Wilkinson's precision off the tee in the 2003 World Cup.
When Jonah Lomu's power and pace scattered defences in the 1995 World Cup, the Dallas Cowboys reportedly offered the All Black winger $6m to see if he could repeat the trick in the NFL.
But there is no call for former second row Smith's line-out knowhow or shoving ability in the scrummage.
Instead, he was recruited for the highly technical and versatile position of tight end, a role that required plenty of homework.
"There is a huge amount to be done academically by any player, so I had to do even more," explains Smith.
"When you join, you get a folder which is about six inches thick, full of different plays.
"I had to learn the cadence, which is the snap count, all the different formations, the defences, defensive fronts, coverages; so top to bottom I was really learning the game."
His hard work paid off in October when he was elevated from the training squad to the Jets' active roster, the equivalent of being called up to the first-team squad.
He made his debut against the Miami Dolphins two days later and became the first Australian to catch a live ball in the NFL when he played in the final home game of the season against San Diego.
"The main thing I remember was being put into the team, us calling the play and then a time-out for television or something being called," Smith remembers.
"So I was standing in the middle of the field in the huddle for about two minutes, knowing that the ball was coming to me.
"I was just trying to keep my head down and not think too much about where I was and what was going on, and keep as calm as possible. Luckily, I managed to do that."
Smith safely gathered the pass and ran 16 yards to earn his team a first down with a little more territory on top.
That Smith will be paid $480,000 (£315,000), a considerable increase on his salary at Saracens, to do similar in the 2013 season will catch the attention of some of his former team-mates.
Smith believes that some could follow his lead. Whether they will is another matter.
"There is the possibility to make much more money in the NFL than you ever could in rugby," he adds.
"But to do that you have to be successful and that requires a lot of work and a certain level of talent. It is not a given, it is a bit of a gamble.
"You go from a very comfortable environment where you are successful, a very good player in a good league, to being back in the first day of school.
"It is a very media-intense sport and you are under a little more of a microscope.
"Thinking about it is one thing, but actually pulling the trigger and walking away from a contract is another thing."
To build a life around playing sport is, in many people's eyes, the career jackpot.
Twice, though, Smith has pushed his chips back into the middle of the table to risk it all by following an entirely new avenue.
Has he finally found his sticking point?
"What I am trying to do now requires all my attention and focus. There is nothing else I have got my eye on at all," he insists.
Keeping your eye on the ball - maybe that old adage is the secret of the sporting all-rounder's success.