Exeter Chiefs: Rob Baxter still targets top six Premiership finish
Last updated on .From the section Rugby Union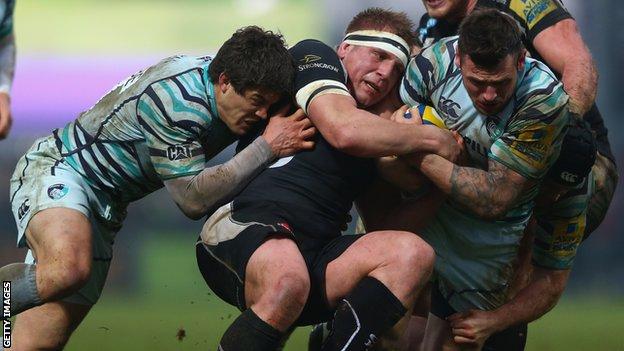 Rob Baxter says his Exeter Chiefs side must keep up their recent form as they fight for a top-six Premiership finish.
Baxter's side won a bonus point in the at Sandy Park on Saturday following their at the start of the month.
"Ten points from three games, you'd tend to take that," Baxter said.
"That's what we have to keep doing, keep accruing a good amount of points over our next four games and see where we end up," he told BBC Radio Devon.
The Chiefs remain eighth in the Premiership, five points off sixth-placed Wasps, with four games to go.
"The season's massively alive for us, nothing's massively changed, it's just one less game.
"A win for us would have been fantastic and really closed the gap, but in the big scheme of things winning today and not performing next week [means] we'd have been back in the same situation.
"We have to follow up this bonus point with a really good performance next week and make sure we gather some points and really move forward again.
"There's no resting after getting up for a couple of big Premiership teams, now we've really got to talk about what a good Premiership team would do now.
"A good Premiership team will go and perform at Worcester, will perform against London Irish, will perform against Gloucester and that's what we have to do."
And Baxter felt his side could have had chances to win the game against the Tigers, which was decided by four Toby Flood penalties to three from Gareth Steenson.
"You could almost say that the game was decided by two poor decisions by us.
"One we had a kickable shot at goal where Haydn Thomas tapped and went and we got turned over, and then from the next passage of play they put some pressure on us.
"We got another penalty, and instead of kicking and exiting and keeping possession, we tapped again and got turned over and from that piece of play they got their match-winning penalty.
"At 9-9 we could have been the team taking control and heaping the pressure on them and actually we took the pressure off them."