Cardiff Blues consider installing artificial pitch
Last updated on .From the section Rugby Union73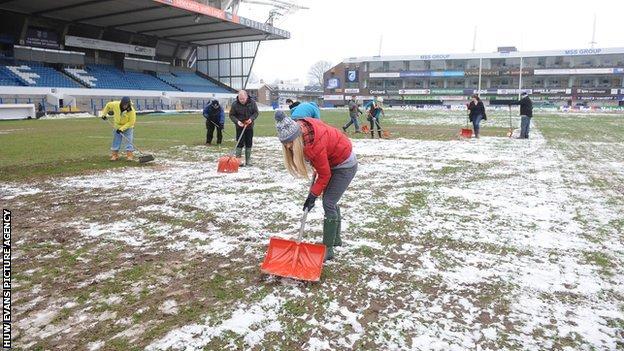 Cardiff Blues are examining the possibility of ripping up the turf at the Arms Park and replacing it with an artificial pitch for next season.
The Welsh region was impressed by Saracens' new £500,000 playing surface when they at Allianz Park in January.
That was the first professional union match played on an artificial pitch.
"We are exploring those different [pitch] options," confirmed Blues chief executive Richard Holland.
"It's hugely important in today's commercial game that we have got a pitch which can withstand the inclemental weather we get over the winter periods.
"The weather that we had this season, it was touch-and-go on several occasions whether or not the matches would go ahead. If they hadn't there would have been a huge financial consequence.
"The beauty of an artificial pitch is that you can use it 365 days a year."
The Blues confirmed they investigating possible improvements for the Arms Park surface and have looked at a number of different options and costs including new grass, synthetic and a mixture of both with a synthetic weave.
Such artificial 4G playing surfaces cost only £18,000 per year to maintain, compared to around £85,000 for the upkeep of a grass pitch, but have to be replaced every eight years.
However, they are far less susceptible to adverse weather conditions - which have beset many sports teams this winter with heavy rain and snow - and can provide players with a surer footing, although there have been some studies that suggest there may be a greater strain put on players' joints.