Pro12: Troubled Welsh regions eye English links
Last updated on .From the section Rugby Union227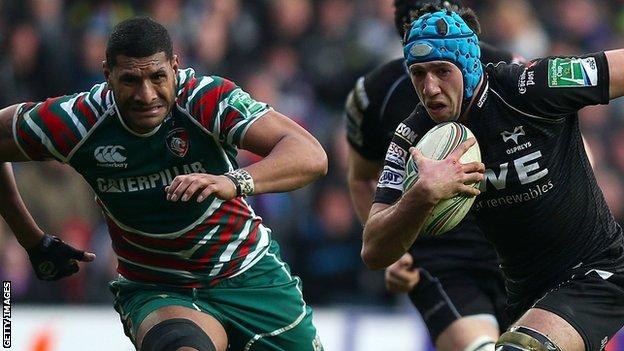 Wales' rugby regions have held fresh exploratory talks with English clubs over joining the Aviva Premiership.
The move is part of a plan to end the Welsh teams' financial plight, that has seen Scarlets wing become the latest player to be linked with leaving Wales as Northampton chase him.
Stuart Gallacher, who represents the Scarlets, Ospreys, Blues and Dragons, confirmed the talks.
But Gallacher told The Back Page: "There are massive hurdles to climb."
Those hurdles would include winning the approval of the Welsh Rugby Union, its English counterpart the Rugby Football Union, and the International Rugby Board.
Winning over the clubs in English rugby's top flight and the second-tier Championship would also have to happen.
And the four Welsh regions are themselves tied into agreements to play in the Pro12 alongside teams from Ireland, Scotland and Italy.
Gallacher believes the regions would have to help form a breakaway organisation to establish a new cross-border competition, which would establish what he feels would be a meaningful and attractive Anglo-Welsh competition.
He said: "Whether we could ever join the English Aviva Premiership is probably a step too far. I'm not saying that I wouldn't welcome it... it's a product you can get some revenue out of.
"However, there are massive hurdles to climb before you could anywhere get the green light, 'a' from your union and 'b' from the other unions.
"Under the terms of the IRB it would be not sanctioned so therefore you have to breakaway and go and play beyond the controls of your unions, but most importantly the control of the International Rugby Board."
The former Scarlets boss added: "We have to work within our union to better the game.
"I'm giving my opinion. It's not something I would join in on, so I don't see that [an Anglo-Welsh competition] as an option."
The four Welsh regions have faced financial difficulties amid struggles to attract sufficient crowds to games.
That has led to the imposition of a £3.5m salary cap per region per season, which has been cited as a reason for some of Welsh rugby's biggest names opting to leave and play in France and England.
If he decides to join the Saints, North, 20 and with 31 Wales caps, would join France-bound centre Jamie Roberts and Dan Lydiate in exiting the Welsh regions at the end of the 2012-13 season.
Wales prop Gethin Jenkins has bucked the trend by opting to return to Cardiff Blues from Toulon ahead of the 2013-14 season.
And North's fellow Wales wing
Likewise, Ospreys have until the end of the 2015-2016 season.
However, Mike Phillips (Bayonne), James Hook (Perpignan), Lee Byrne (Clermont Auvergne), Aled Brew (Biarritz), Andy Powell (Sale Sharks), Luke Charteris (Perpignan), Paul James (Bath), Craig Mitchell (Exeter) and Rhys Gill (Saracens) are among Wales Test players playing outside the nation.
Gallacher believes the WRU would be rightly concerned if the talent-drain continues and contends that Wales' Test performances could suffer as a result.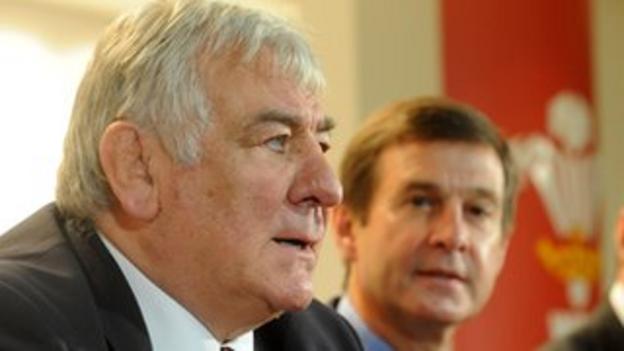 He added: "Under the market forces at the moment and the economy as it is in Wales, and particularly the pressure from France... we simply can't compete salary-wise.
"The major issue is the quality of what's left behind. Fortunately in Wales we are always able to develop players.
"But these players take time to come through.
"Now George [North] is a different example. He's playing for Wales at 20. George North is an iconic player.
"But if it comes a time where if you can't afford it, you can't afford it. Simple.
"And I understand this to be the case, that... the Scarlets have offered George North a new contract, the best offer they can.
"That's been turned down.
"But they know he's got a year left on his contract.
"In a year's time he'll be a free agent so they'll get nothing [if he stays next season and leaves at the end of his contract]."
Gallacher says the WRU has acknowledged they have the financial means to help stem the player exodus.
He added: "That's a big call for them and it's a call I'd make now.
"The only place in town where there is potential revenue to secure the players in Wales is with the Welsh Rugby Union. We've said that. They accept that. Whether they're going to do anything about it is a call for them."
The WRU is expected to issue a response within 24 hours.