Ex-Cardiff boss Gareth Davies condemns Welsh rugby row
Last updated on .From the section Rugby Union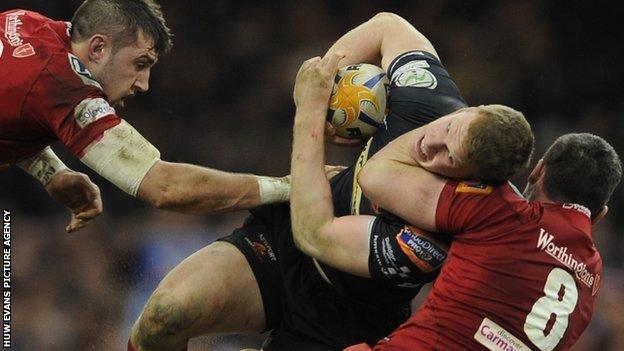 Former Cardiff RFC chief executive Gareth Davies has condemned the ongoing row between the Welsh Rugby Union and Wales' four regions.
The WRU is angry at the possible sale of Scarlets wing George North to Northampton and the regions' stance on a range of issues.
Regional bosses are equally unhappy at the WRU's recent edicts on North and the lack of meaningful talks.
"It doesn't help Welsh rugby," said former Wales fly-half Davies.
"I am living in England at the moment and it makes us look like a bunch of school children squabbling in the school yard.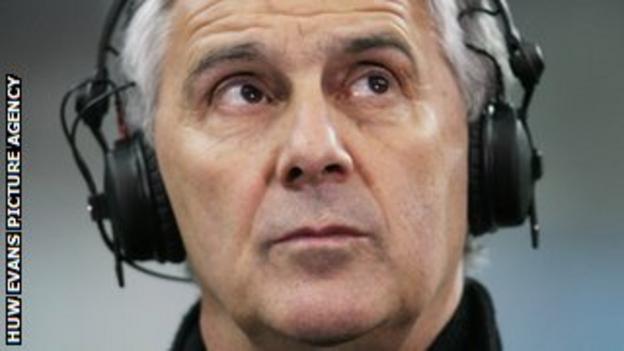 "It doesn't portray us in a good light which is very disappointing on the back of what has been a very exciting Six Nations championship, which we won."
The WRU has invited the four regions to meet its management board to discuss centrally contracting the nation's Test stars.
That proposal has emerged amid a spat that began when Regional Rugby Wales (RRW) chairman Stuart Gallacher revealed they had held exploratory talks
Worcester chairman Cecil Duckworth
The WRU and RRW exchanged strong views over the future of the game.
The WRU claimed the Scarlets began talks to sell star wing George North before informing the player.
The Blues, Ospreys and Dragons joined the Scarlets in being "bitterly disappointed" at that WRU statement.
North's Scarlets bosses also responded, saying they were "astonished" at the WRU's decision to go public over the player's possible transfer.
to Aviva Premiership side Northampton.
Davies says the regional and WRU bosses should settle their differences behind closed doors.
"Various sides are hurling accusations and that doesn't help and it certainly doesn't help in the case of the individual at the centre, George North.
"It's very unfortunate for George North.
"From what I read, he is a little bit of an innocent victim here in the sense that he doesn't want to move.
"I can understand the... Scarlets position, of course, in terms of their financial plight, but what I cannot understand, with only four regions with able executives at the Welsh Rugby Union, why on earth there isn't a solution or it isn't being resolved.
"There seems to be totally different agendas the whole time and the options and alternatives are very minimal.
"We know the structures within which we play. The old chestnut is central contracts or not.
"But it would be a good idea to lock these people in a room for an hour, a day or a week, however long it takes to resolve the whole messy affair."
Davies believes the issue of central contracts is fundamental to the row and he sympathises with regions whose star players are often on Wales duty.
He said: "I do have sympathy with the regions, because if you consider some of the star Welsh players, like Jamie Roberts, I understand in three years he has played 21 or 22 games for the Blues and 29 games for Wales.
"Who pays his wages? The Blues do.
"I have sympathy with the regions, but we are a small country and an economically-challenged country... but in terms of principle the central contract does work in other countries as economically challenged, like Ireland.
"It is starting to work in Scotland by what has happened in recent months.
"England and France are powerful [rugby] nations and deals have been struck with their governing bodies because the economics of England, in particular, are totally different to Wales.
"The bottom line is that we need to pool all our resources together to come out with an outcome."
In November, 2012 accountants PriceWaterhouseCoopers (PwC) on the regions' finances and management up to April, 2012.