Andrew Trimble keen to put former coach out of Heineken Cup
Last updated on .From the section Rugby Union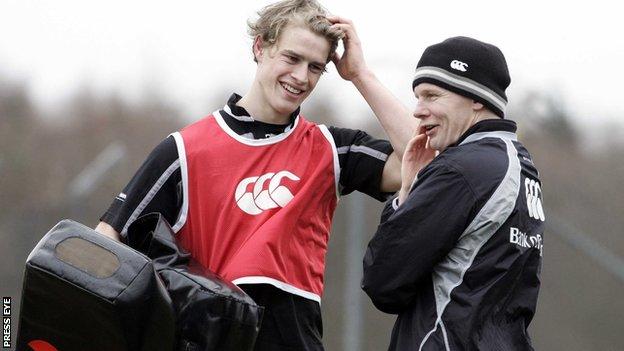 Ulster wing Andrew Trimble says his respect for Saracens coach Mark McCall makes him even more determined to win Saturday's Heineken Cup quarter-final.
Trimble played on the Ulster team that won the Celtic League under McCall in 2006 and now faces him at Twickenham.
"A lot of us who played under Mark have a massive amount of respect for what he brings to a side and what he is capable of producing," Trimble said.
"He was very good to me and I enjoyed playing under him."
Trimble has been impressed with some of Saracens' performances this season.
He added: "it is strange to hear Mark talking about playing against Ulster because I still remember and think of him as an Ulster coach."
"But putting all that aside, it only makes me more determined and we'll hopefully get stuck into him this weekend."
Ulster assistant coach Jonny Bell played alongside McCall for both Ulster and Ireland.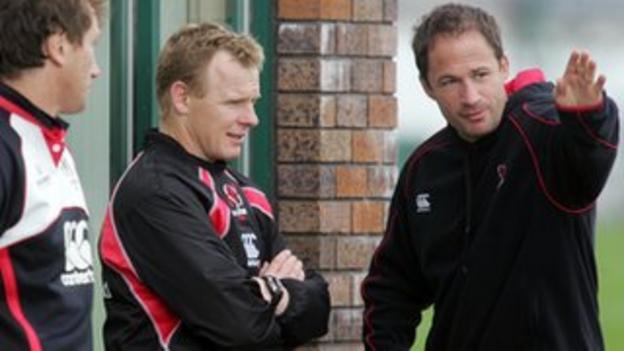 They were part of Ulster's European Cup success in 1999, although McCall missed the final through injury.
Bell also played in McCall's Celtic League-winning team.
"I'd speak to Mark regularly and we're good friends, as is David Humphreys," said Bell.
"He's excited about things and he is probably slightly disappointed that the boys played so well against Leinster. I suppose he was hoping we wouldn't win.
"There is nobody that will want to win this game more than Mark does.
"The rivalry will be there on the day.
"Emotionally it's going to be a big occasion for everyone."