Premiership chief McCafferty: Anglo-Welsh league 'unlikely'
Last updated on .From the section Rugby Union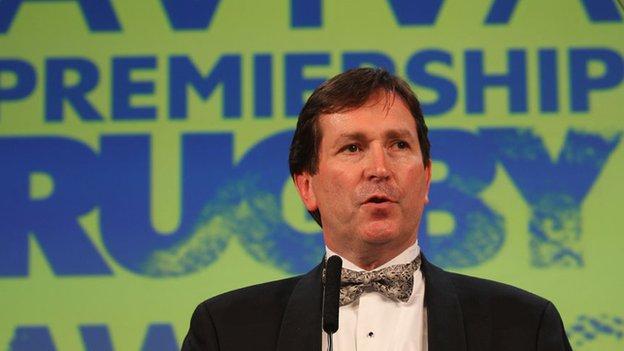 English Premiership rugby boss Mark McCafferty says an Anglo-Welsh league is "unlikely".
Premiership chief executive McCafferty confirmed talks have taken place.
But he cautioned: "Its [a league's] possibilities are probably constrained by agreements that people are already involved in."
McCafferty added: "There would have to be an awful lot of people who would want to change things from where they are today."
The Welsh regions are tied in to a deal until the summer of 2014 by a participation agreement they signed with the WRU in September 2009.
Aviva's current sponsorship of the English Premiership also ends in the summer of 2014.
The row between the WRU and the regions blew up over the possible transfer of Wales wing George North from Scarlets to Northampton.
The union is unhappy with top players moving to other countries while the the regions' bosses are critical of a lack of talks, though they have been invited to a meeting by the WRU.
McCafferty believes there are obvious merits in regular Anglo-Welsh competition, but that the hurdles in the way of a quick change are substantial.
"I think you have existing commitments that no doubt the Welsh regions have, certainly the English clubs have and without a shadow of doubt the WRU and the RFU have," he said.
"I think from that point of view I can understand why there would be an attraction towards it [an Anglo-Welsh league] but I would have to say it is unlikely at this stage."
Asked if the English clubs and Welsh regions had met recently, McCafferty said: "Yes, but then we talk to the Welsh regions probably every few months.
"We obviously are in competitions together in any case with the LV= Anglo-Welsh Cup and have been for a number of years.
"We are also expanding our sevens involvement and we're interested in seeing whether the Welsh regions are willing to become involved in that.
"There's various other things that we will talk through that might have some mutual benefit, not least of which is where we should head with regard to future European competitions as well."
The agreement covering the European Cup ends in 2014, with McCafferty hinting nothing is likely to happen until the future of that competition is decided.
"I think it's highly unlikely because of all the obvious reasons, despite the fact that it has some aspects of it which would be appealing to some parties.
"I think the facts of the matter are that the European competitions come to an end at the end of next season.
"Everybody has to look at what they're going to do from 2014 onwards and therefore inevitably people will have discussions and thoughts and ideas about what some of the possibilities might be.
"So I think it's inevitable that there's speculation."