David Moffett accuses WRU over row with Welsh regions
Last updated on .From the section Rugby Union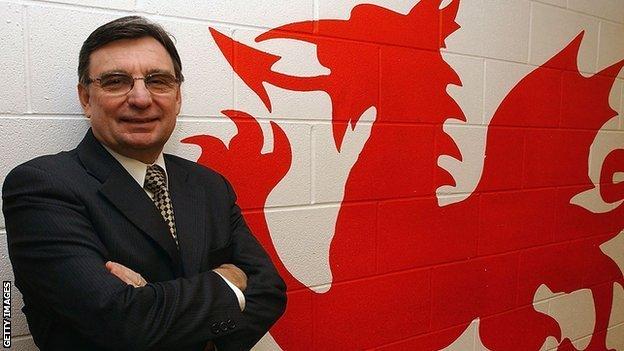 Former Welsh Rugby Union chief executive David Moffett says the governing body is a "laughing stock" because of their row with the regions
Moffett, who introduced regional rugby in 2003, claimed: "What they [WRU] want to achieve is central contracting and ownership of the regions."
The WRU has been asked to respond to Moffett's comments.
It had claimed the Scarlets began talks to sell North before informing the player but the Blues, Ospreys and Dragons joined the wing's club in being "bitterly disappointed" at that WRU statement.
North's Scarlets bosses then responded with a statement of their own, saying they were "astonished" at the WRU's decision to go public over the player's possible transfer.
Moffett resigned as group chief executive of the WRU in 2005, but returned to Wales three years later as interim chief executive of Regional Rugby Wales, the newly-formed body to represent the four Welsh regions.
Now living in New Zealand, Moffett claims the rows will continue because he believes the WRU is trying to gain complete control of the game in Wales to the detriment of independent regions.
"It's entirely predicable because of the behaviour of the Welsh Rugby Union in all matters, and I experienced that first hand," he said.
"The Welsh Rugby Union off the field at the moment are the laughing stock of world rugby.
"Until the WRU come clean and tells the regions and the public exactly what they want to achieve this will continue, and in my opinion, what they want to achieve is central contracting and ownership of the regions.
"They [the WRU], under this regime, have never liked the idea that the regions were separate entities and could control the buying and selling of players. I suppose the George North incident is a perfect example of that.
"But until they come clean, and actually say that's what they want to achieve, this will go on and on until there is a change in the management of the WRU."
Moffett, who has also held the top jobs at the New Zealand Rugby Union and Australian Rugby League, believes the WRU having control of the regions would be "a disaster".
"I hate to think of the idea of the Welsh Rugby Union owning the franchises or owning the regions as they do here in New Zealand because I think under the current regime that would be an absolute disaster," he said.
"Regional rugby somehow has to work, it just needs the model changing somewhat from the one we put in place 10 years ago.
"I think it's very very sad for Welsh rugby that the default position by the WRU is one of confrontation and if they don't get their way then they are like kids throwing their toys out of the cot and they go off to the media."
The four Welsh regions will hold a joint media conference on Thursday afternoon to address some of the issues that have strained their relationships with the WRU over recent weeks.