'Play in Wales to play for Wales' says Blues boss Peter Thomas
Last updated on .From the section Rugby Union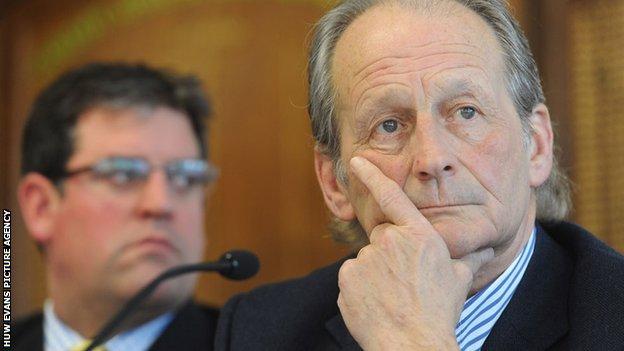 Peter Thomas says Welsh rugby's administrators should consider not selecting players for internationals if they play club rugby outside Wales.
The Cardiff Blues chairman believes the Welsh Rugby Union and regions have to act to stop the drain of players.
"I'm a firm believer that if you want to play for Wales you play in Wales," he said.
But he repeated a call for the WRU to re-instate the Professional Rugby Game Board to discuss the issues.
Thomas was speaking after a media conference in Cardiff when Regional Rugby Wales, the body that represents the four Welsh regions, called for an independent arbitrator to be appointed to help sort out the row rocking the game in Wales.
The regions also formally turned down an invitation to attend a meeting with the WRU board to discuss central contracting for key Welsh players.
It came at the end of a week when the imminent transfer of wing George North from Scarlets to Northampton prompted a falling out between the two bodies.
"The governing body needs to give us more support and the vehicle to do that is through the PRGB," Thomas told Radio Wales' Back Page programme.
"They [WRU] appointed a chairman, we supported their appointment, the chairman had a vote and they've taken that vote away from him. That's wrong."
Thomas, who played for Cardiff rugby club in the 1960s and 70s and has been a major benefactor since the Blues region was set up in 2003, believes the PRGB with an independent chairman is the only way to tackle the issues facing the game in Wales.
He thinks that when they finally get together, the regions and the union should consider radical action to stop the drain of players from the Welsh domestic game.
He believes a policy not to pick players outside Wales would make stars like Jamie Roberts - who is leaving the Blues at the end of this season - think twice about moving.
"I wonder would Jamie have gone if that clause was in place," asked Thomas.
"If you want to be an All Black you play in New Zealand, you know we're a small country with small resources.
"I think if we want to stop this drain, one of the areas, and there are several to consider, is 'you want to play for Wales, you play in Wales'."
Wales coach Warren Gatland said in 2008 that players based outside Wales would be less likely to be picked for Wales because they wouldn't be able to attend all training sessions.
However, the selectors have never fully applied the policy.