JJ Williams: George North will win games for Northampton
Last updated on .From the section Rugby Union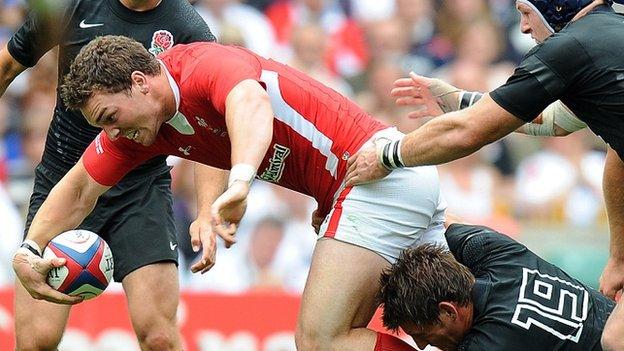 Wales wing legend JJ Williams believes George North will be a match-winning signing for Northampton.
Saints are expected to complete the signing of the 20-year-old Scarlets and Wales winger shortly.
Williams, a key member of the great Wales and British Lions sides of the 1970s, told BBC Radio Northampton that North was "a special, special talent''.
He said: "He has star quality, he can handle the big occasion, and he will win you a big game when it's tight."
The 65-year-old continued: "In a Heineken Cup quarter-final or semi-final, George North will score you a try out of nothing. He did it for Wales out in Paris this year - it was a pretty dour game, and Wales were drifting to defeat: little bit of brilliance, dived over in the corner.
"Last weekend he scored two scintillating tries for Scarlets against the Dragons which lifted the Millennium Stadium. Only George North can do that in British rugby."
However, Williams, who scored 12 tries in his 30 appearances for his country and was a member of the Grand Slam-winning side of 1976 and 1978, said a move to the English Premiership might not necessarily benefit North's international career.
"He [North] says the Pro12 isn't that good, but it suits international players. In England when they come out of international rugby they play in the English league, which is brutal.
"That's not the case in the Pro12, it's a lighter game, and it's perfect to prepare for international rugby - he'll find it difficult to play in big tough league games week in, week out, and then be fresh for internationals for Wales," he explained.
"We've seen it with the England team, they're never as fresh as the Welsh side starting off their campaign because they have this brutal season in between it all."
Despite that, Williams is confident that North has the physical attributes to cope with the English game.
"His biggest plus, of course, is his power - he'd have been a second row in our day - and he might be at the peak of his game in the next two or three years. He's not a guy who is going to get much much bigger because he's huge already, so Northampton could see the best times of George North's career.
"I know for a fact he was offered a very large contract by Scarlets, but it doesn't compare to the offer from Northampton.
"George apparently has it in his contract to be available for all Wales games and squad sessions, and I think that's why he didn't go to France. Remember, Wales play as much as 15 games a year. But when he does play for Northampton, he'll be special in the big moments."