Connacht hooker Adrian Flavin to retire at the end of this season
Last updated on .From the section Rugby Union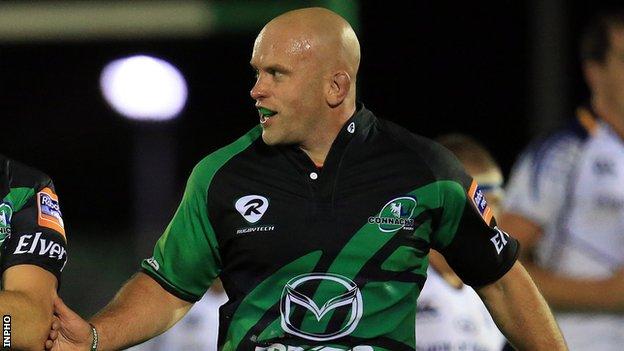 Connacht hooker Adrian Flavin will retire from professional rugby at the end of this season.
The London-born player joined Connacht in 2006 after spending nine seasons at London Irish.
Flavin was part of the Ireland side which won the Under-19 World Cup in 1998 and went on to play for the Ireland Under-21s and Ireland A.
In 2010, he captained Connacht to victory over the touring Samoa side and he played 138 games for the province.
"I've had a great 16 years in the professional game and I'm proud that I've played with two fantastic clubs within that period," said the 33-year-old.
"I am especially proud to have been involved with Connacht Rugby over the last number of years as the club has seen huge improvements.
"I'm honoured to have been associated with that change and hopefully I have contributed as much as I could.
"Galway has become a very special place for me, especially with my two sons Samuel and Joseph being born here.
"With a degree in Sport Science & Management Studies as well as a Level 2 IRFU Coaching qualification, I am ready for the next step in my career and I look forward to new opportunities within rugby."
Connacht coach Eric Elwood paid tribute to Flavin's contribution to the province over the past seven years.
"Adrian has always conducted himself in a professional manner on and off the field and is a very popular member of our squad," said Elwood
"Here at Connacht Rugby, we always look to bring in good people who can add to our culture, have good values and contribute to our team.
"Over the last couple of seasons we have had our two best finishes in the Rabo Pro12 and it is through the hard work and commitment of people like Adrian that we have had that success."