Ryan Jones urges solution to keep 'stars' playing in Wales
Last updated on .From the section Rugby Union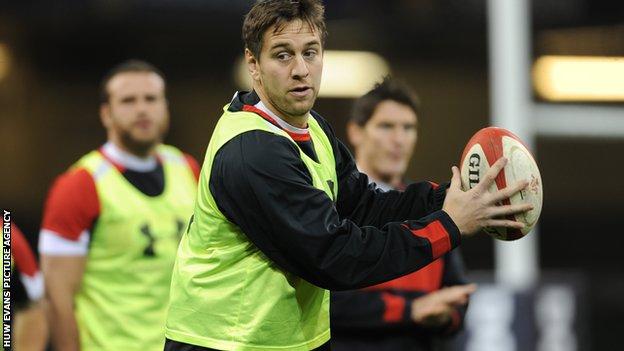 Ryan Jones has defended his Wales team-mates who have chosen to leave their Welsh regions, but stressed the trend cannot be allowed to continue.
And Ospreys forward Jones warned: "The stars of tomorrow need to be watching the stars of today play rugby in Wales. We need to get a solution."
The four Welsh regions say they need more money to keep their best players.
Their inability to compete with the higher wages on offer at French and English clubs has resulted in a steady flow of Wales players deciding to leave Welsh regions over recent years.
Roberts, the Cardiff Blues centre, and Dragons flanker Lydiate will join an already significant Welsh contingent in France by joining Paris club Racing Metro when their contracts expire in May.
North had a year left on his Scarlets contract but the region have agreed to release him early to join English Premiership side Northampton Saints.
Scarlets said 20-year-old North rejected "the very best offer" they were able to make on a new contract.
Jones, who has captained Wales on the most occasions, revealed he had been approached by clubs "from all over the world" but decided to stay with Ospreys.
But he stressed no blame should be attributed to those who chose to move away.
"None of these decision are ever taken lightly," said 32-year-old Jones, who signed a four-year extension with Ospreys in 2010.
"The turmoil these kids go through to move away is heartbreaking. Having spent time talking to George and Jamie, unfortunately circumstances dictate that they have to move away."
The four Welsh regions have urged the Welsh Rugby Union to start working towards a financial strategy that will ensure the game will "survive and prosper".
Relations between the two sides have soured over recent weeks, sparked by the WRU's accusation that Scarlets offered to sell North to French clubs without his knowledge.
Scarlets denied the accusation and the four Welsh regions then jointly rejected an invitation from the WRU to discuss the option of centrally contracting the best Wales players.
Jones added his voice to those calling for an end to the current problems, stressing the success of the national side over recent years in winning four Six Nations titles since 2005 has been down to the regions.
"Welsh rugby, through regional rugby has produced some fantastic rugby players," said Jones, part of the four Six Nations championship-winning sides since the formation of regional rugby in 2003.
"We've had a wonderfully successful nine years. Regional rugby is only 10 years old in its current format. The national success has to be attributed to that. It does work."