Marcos Ayerza: Richard Cockerill fury at ERC Botha call
Last updated on .From the section Rugby Union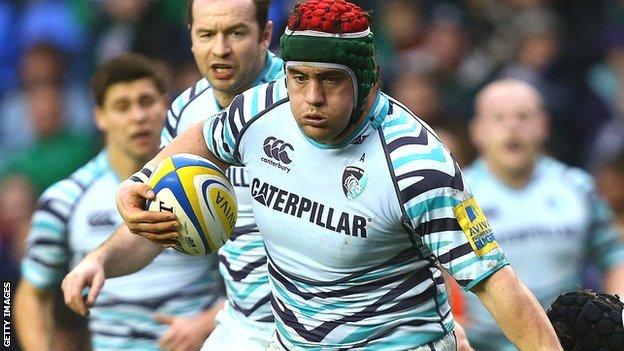 Leicester director of rugby Richard Cockerill says it is "disgraceful" that European Rugby Cup (ERC) will not look into the challenge which led to Marcos Ayerza being ruled out for the season.
But Cockerill told BBC Radio Leicester the ERC said there would be no citing.
"It's a pretty disgraceful decision not to at least have a hearing," he added.
Prop Ayerza has had surgery and will be out of action for the next three months.
Cockerill continued: "The citing officer put it forward as a citable offence and the gatekeeper from ERC disciplinary has decided it is not worthy.
"From the footage we have seen and the footage we sent to the ERC, we felt it was an illegal act jumping into the tackle.
"It has clearly caused a lot of damage to the player and we are very disappointed with the attitude the ERC have come back to us with.
"We are bitterly disappointed that the inconsistency at ERC disciplinary level yet again fails to deal with what is in my opinion an act of foul play."
Tigers have recalled Kieran Brookes from his loan spell at Newcastle to cover for Ayerza.
"I am very disappointed for Marcos," Cockerill said. "He misses the rest of the season and has been paying exceptionally well."
Meanwhile Ayerza's fellow prop Martin Castrogiovanni has had further talks with Toulon. The 31-year-old stayed over in France following Sunday's game but no deal has yet been finalised.