Jersey's captain Nicky Griffiths relishes relegation showdown
Last updated on .From the section Rugby Union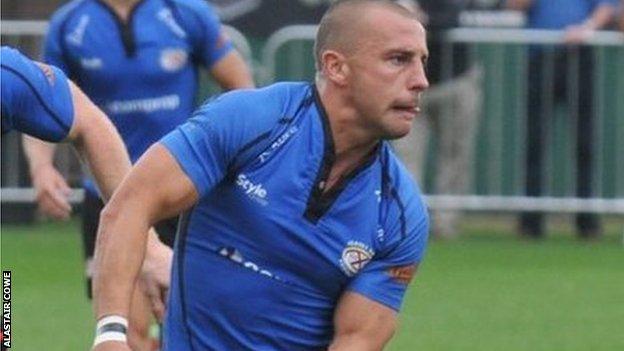 Jersey skipper Nicky Griffiths insists the islanders will not be affected by nerves despite the bumper crowd expected for Saturday's crucial clash with Doncaster.
A win for Jersey could be enough to guarantee them another season in the Championship and send Doncaster down.
Club officials are expecting a record attendance and have described it as one of the biggest games in their history.
"You thrive in front of the crowds," Griffiths told BBC Radio Jersey.
"It's all I've wanted to do since I was a young boy watching on TV, this is a massive game, so the more the merrier.
"The feeling it gives the boys, knowing all the crowd is there just for Jersey, is going to be massive.
"It's not really pressure, you should just enjoy the occasion because they don't come around often."
Jersey's current record crowd for a league match stands at 3,648, set when they overcame Rosslyn Park at St Peter last season.
The put the islanders top of National League One and sent them on their way to promotion to the second tier of English rugby.
"I think we're going to have a big, big crowd and we need it," said ticket manager Barry Stead, who is predicting 4,500 fans will turn up to cheer on the team.
"People are coming in all the time - one came in and bought 28 tickets and that's just one guy.
"We need to win this game, we need the crowd behind us and we need lots of noise."
There will be live commentary from St Peter on BBC Radio Jersey's Saturday Sportscene programme.