Wales head coach Warren Gatland dismisses Stade Francais link
Last updated on .From the section Rugby Union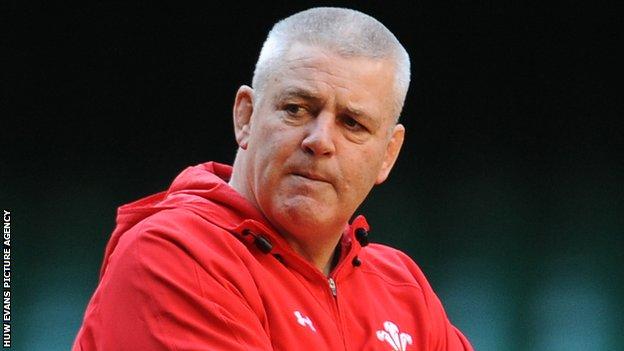 Coach Warren Gatland says he will honour his Wales contract after being linked with French outfit Stade Francais.
The New Zealander was photographed taking a training session with the Top 14 side in Paris.
Gatland will lead the Lions tour to Australia and has a contract with Wales until the 2015 World Cup.
"Once the Lions tour is over, my focus comes back to Wales in terms of preparing for 2015," said Gatland.
A photograph emerged of the Wales coach, who masterminded the 2008 and 2012 Grand Slam campaigns, at a training session with the French side on the club's Twitter account on 5 March.
When the picture emerged of Gatland, being watched by former Italian and Stade Francais fly-half Diego Dominguez, taking training there was speculation that the former Waikato coach was preparing the way for a move to France.
But the former London Wasps coach has revealed a phone call from ex-England international Richard Pool-Jones, then the Stade Francais head coach, was behind the 30-minute session in the French capital.
Pool-Jones, who won his one England cap in the record 76-0 loss to Australia in 1998 and played for Stade in the 2001 Heineken Cup Final, replaced former Leinster coach Michael Cheika.
"I had a phone call from Richard Pool-Jones as the director of rugby at Stade Francais who had played for England," said Gatland.
"He said he was new in the job and pretty green and could he come and have a chat with me about some contact situations.
"He flew to Cardiff and I sat down with him and I gave him a few drills and a few ideas.
"He sent me a text saying thanks very much and said would I think of coming to Paris to do a session.
"He had taken it for a few weeks and I had a chance to take my wife over there and we stayed a couple of days and I went to Stade on a Tuesday morning and did a 30-minute session.
"It was a good chance to keep my hand in and do it pretty quietly and anonymously, but within two hours it was on Twitter and the rest of the world was speculating I was making a move to go to Paris and to France.
"It was just a chance to do some hands-on coaching, which I haven't been doing the last few months. It was nothing, I can assure you of that.
"It was a chance to help out another coach and a chance to get away to Paris for a couple of days."
Pool-Jones has since relinquished his on-field role at the French club and returned to the boardroom after another disappointing season for Stade which sees them in 10th place in the Top 14.
Watch a full interview with Warren Gatland on Scrum V, BBC Two Wales; Sunday, 14 April, at 17:45 BST