London Welsh: questions over future for relegated club
Last updated on .From the section Rugby Union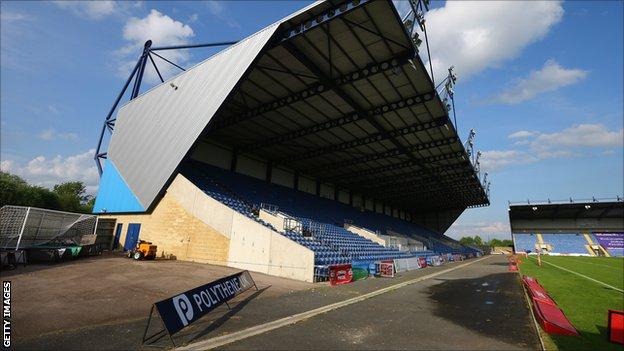 London Welsh are considering leaving Oxford's Kassam Stadium and returning to Old Deer Park next season.
Chairman Bleddyn Phillips said: "A number of key decisions need to be made regarding the future of the club."
Chief executive Tony Copsey has confirmed he is stepping down from his role but coach Lyn Jones is to remain at the club.
Copsey said: "I'm obviously very disappointed to be stepping down as the CEO of London Welsh, but given the situation I did not feel carrying on in my current capacity was the best for me or the club."
But Jones said he was relishing the challenge of returning Welsh to the Premiership. "For me, it's about bouncing back up next year," he said. "I've got drive. I've got ambition."
Welsh's maiden season of Premiership rugby has been hit by off-the-field issues, with the club deducted five points for fielding an ineligible player after former manager Mike Scott forged documents.
They also had to win a legal fight in order to be allowed to play in the Premiership, and that led to player recruitment being delayed.
Phillips said: "Not only have we had to battle against low budgets and minimal preparation time, but the club has also had to contend with what has, in its view, been the application of unfair and disproportionate sanctions in the wake of the Mike Scott incident and the consequent five-point deduction at what was a critical stage of the season.
"Not only did this impact upon our position in the table, dropping us to bottom overnight, but it unsurprisingly had a very profound impact on the morale of the team."
But Phillips said the club was now looking to the future - including where it should base itself for next season.
Welsh moved to the Kassam Stadium after their Old Deer Park home in Surrey was deemed unsuitable for Premiership requirements.
Phillips explained: "A number of people have speculated that given the enormous local support built up over the past months in the Oxford region, we should continue to play our rugby in that area. Others have contended that having had a very worthy and dignified season of Premiership rugby in Oxford, we should perhaps now think about returning to our roots in Old Deer Park.
"Perhaps equally, if not more important, is the issue of future funding for the club to ensure that we are able to compete at an appropriate level."
Main shareholder and benefactor Kelvin Bryon is pulling out of the club, a move that will see them lose what Phillips said was "critically important funding".
He added: "Despite heavy investment by certain other people, serious and sustained efforts to identify further major potential investors have proved unsuccessful thus far."
Coach Jones said: "There is a steely focus from key people within the club and I am happy to carry on serving.
"What happens at board level is not for me to comment upon. What the club has to do is simply hold its nerve.
"With a plan, a strategy and a vision we have a good chance. There is lots of spirit and lots of good at London Welsh and we need to build on that."