Coleraine look to install artificial pitch at Showgrounds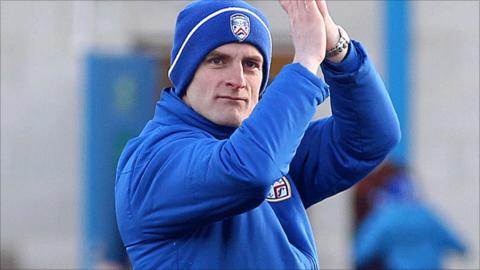 Coleraine are aiming to follow the example of their Irish Premiership rivals Crusaders and Cliftonville by installing an artificial pitch.
The club is preparing to present their case to local councillors next month in the hope of securing necessary funding.
Increased income and better playing and training facilities are the incentive.
The Bannsiders have separate plans to move to a new stadium at Rugby Avenue but that project may take several years to come to fruition.
Coleraine Borough Council plan to construct a multi-sports stadium at cost of £35m but work on that is not expected to start until 2015 at the earliest.
In the meantime, Coleraine board members and manager Oran Kearney are keen to secure appropriate facilities to nurture the extensive grassroots and community programmes which are currently evolving.
"Regardless of where Coleraine FC's long term future may lie, the immediate need to secure the foundations that have been laid over the last three years is essential," chairman Colin McKendry told the club's website.
"Whilst I personally have expressed mine and the club's support for Coleraine Borough Council's proposed venture at Rugby Avenue, I have also put on record that I and the club are totally in support of the immediate need for appropriate playing and training facilities at the Showgrounds.
"When you consider the amount of people who participate in the sport of football alone in the Coleraine area, whether competitively or as a leisure activity, it is clear that we are in need of many more multi use facilities than the Rugby Avenue project will cater for.
"It is for that reason that Coleraine Football Club are pursuing avenues to secure support and possible funding for artificial surfaces at Coleraine Showgrounds."