Six Nations: Wales to start defence against Italy in 2014
Last updated on .From the section Rugby Union244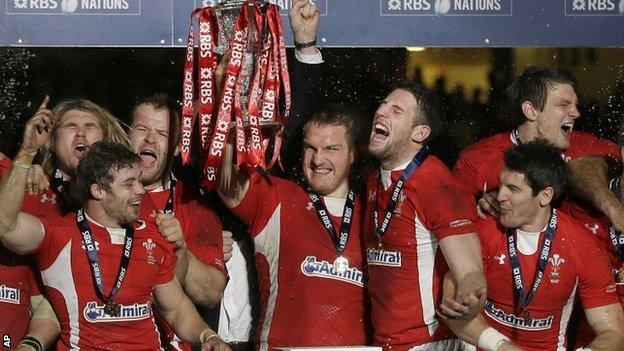 Wales will start the defence of their Six Nations crown with a home game against Italy on 1 February next year.
England visit France later on Saturday, while Ireland face Scotland on the Sunday of the opening weekend.
Wales end the campaign by hosting Scotland, while England visit Italy and France are at home to Ireland.
The following year's fixtures have also been released, with the tournament opening on a Friday night as Wales host England in Cardiff on 6 February 2015.
Six Nations fixtures
2014
Saturday, 1 February
Wales v Italy (14:30 GMT), France v England (17:00 GMT)
Sunday, 2 February
Ireland v Scotland (15:00 GMT)
Saturday, 8 February
Ireland v Wales (14:30 GMT), Scotland v England (17:00 GMT)
Sunday, 9 February
France v Italy (15:00 GMT)
Friday, 21 February
Wales v France (20:00 GMT)
Saturday 22 February
Italy v Scotland (13:30 GMT), England v Ireland (16:00 GMT)
Saturday, 8 March
Ireland v Italy (14:30 GMT), Scotland v France (17:00 GMT)
Sunday, 9 March
England v Wales (15:00 GMT)
Saturday, 15 March
Italy v England (12:30 GMT), Wales v Scotland (14:45 GMT), France v Ireland (17:00 GMT)
2015
Friday, 6 February
Wales v England (20:05 GMT),
Saturday, 7 February
Italy v Ireland (14:30 GMT), France v Scotland (17:00 GMT)
Saturday, 14 February
England v Italy (14:30 GMT), Ireland v France (17:00 GMT)
Sunday, 15 February
Scotland v Wales (15:00 GMT)
Saturday, 28 February
Scotland v Italy (14:30 GMT), France v Wales (17:00 GMT)
Sunday, 1 March
Ireland v England (15:00 GMT)
Saturday, 14 March
Wales v Ireland (14:30 GMT), England v Scotland (17:00 GMT)
Sunday, 15 March
Italy v France (15:00 GMT)
Saturday, 21 March
Italy v Wales (12:30 GMT), Scotland v Ireland (14:30 GMT), England v France (17:00 GMT)