Ulster nominate RDS as 'home' venue if they reach Pro12 final
Last updated on .From the section Rugby Union
Ulster chief executive Shane Logan has confirmed that the province has nominated the RDS as their 'home' venue should they reach the Pro12 final.
If Ulster reach the decider on 25 May, Ravenhill would be unable to host the game as its capacity is well short of the 18,000 required by the organisers.
"I don't think the RDS would hold any fears for us," Logan told BBC Sport NI.
"Wait one more year, possibly two, and we will be able to host all the big games here at Ravenhill."
Ulster's home ground is being redeveloped with construction work currently underway on the new stands at the War Memorial and Aquinas School ends to boost capacity up to the 18,000 mark.
Logan reiterated that Ravenhill "would never have been ready" to stage a final this season but expressed satisfaction that consistent results by Mark Anscombe's team was now putting them in a position to do so.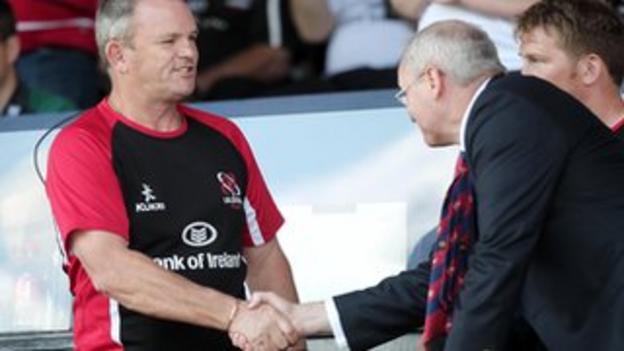 Ulster could be in the unique position as being the 'home' team in the final and potentially facing Leinster, on Leinster's own ground.
Logan stated: "having spoken to several of the fans I think they are just delighted we're in contention for the first time to be considered for hosting a final, and nominating where the final is going to be".
"This has been a rule that's been in existence for several years now, so no matter what had happened we would never have been ready (at Ravenhill).
"As it stands very few clubs would have an 18,000 capacity so almost everybody would have to move grounds within their own Union to a ground that has a capacity to host it.
"We're doing the build now so that in future we will be able to hold finals."
Ulster have beaten Leinster home and away this season, memorably winning 22-18 at the RDS on 30 March.
Logan revealed Ulster chiefs had consulted with the team's senior players before nominating the RDS as their potential 'home venue'.
"Having won in the RDS I don't think it holds any fears for us," he said.
"The ticket allocation is 50-50 so it's not like we would be playing as an away side."