Cardiff Blues need new playing surface, says Phil Davies
Last updated on .From the section Rugby Union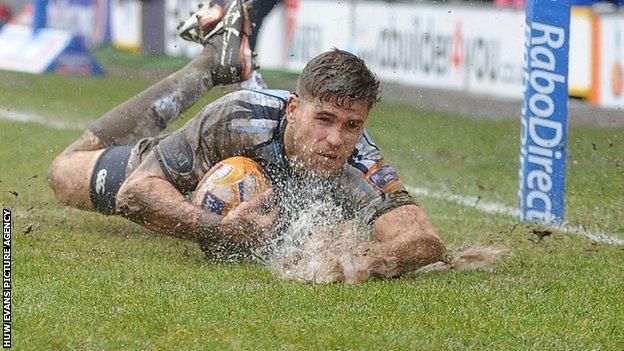 Director of rugby Phil Davies says the Cardiff Blues need to improve the playing surface at the Arms Park.
The region returned to their old home this season after three years at the Cardiff City Stadium, but the playing surface has been heavily criticised.
The Blues played their final game of the Pro12 campaign in a mud bath but emerged with a 28-13 victory against Italian outfit Zebre.
"Something will be done, I am sure about that," said Davies.
"Does the pitch need to be flatter and drier? Yes, of course, it does. Does it need to be more durable? Yes, it does."
"There are plans afoot to improve it and whichever path that takes, short or long term, we will see.
"There have been permutations which have been talked about to improve it, but the main thing is that it is going to be improved.
"To what level will be down to the cost."
Blues chief executive Richard Holland has admitted the region are examining the possibility of ripping up the turf at the Arms Park and replacing it with an artificial pitch for next season.
The Welsh region was impressed by Saracens' new £500,000 playing surface when they played the first match on at Allianz Park in January.
That was the first professional union match played on an artificial pitch.
The Blues confirmed they are investigating possible improvements for the Arms Park surface and have looked at a number of different options, including new grass, synthetic and a mixture of both.
Artificial 4G playing surfaces cost only £18,000 per year to maintain, compared to around £85,000 for the upkeep of a grass pitch, but have to be replaced every eight years.
However, they are far less susceptible to bad weather - which has beset many sports teams this winter - and can provide players with a surer footing.
However, there have been some studies that suggest there may be a greater strain put on players' joints.
Cardiff Blues returned to their home in the summer of 2012 and now share the Arms Park with Premiership side Cardiff RFC.