No extra money for new Plymouth Albion boss James Shanahan
By Brent Pilnick
BBC South West Sport
Last updated on .From the section Rugby Union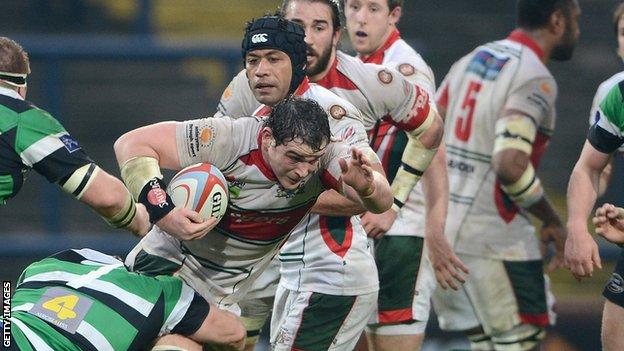 New Plymouth Albion boss James Shanahan will not get any extra money to improve the club's squad, according to the club's chairman Graham Stirling.
Shanahan, who was unveiled on Tuesday, takes over from Nat Saumi after the final game of the season.
Albion faced and have had a tight playing budget ever since.
"The budget for next season is going to be very similar to this season," Stirling told BBC South West Sport.
The club has relied heavily on dual-registered players from Exeter and Shanahan says he will having dealt with them in his current role at National One side Old Albanians.
It comes as the club announced new deals for two players from the current squad.
Forward Ien Ascroft-Leigh, 25, and 22-year-old winger Lewis Warner have signed one-year extensions to their current contracts.
Warner becomes a full-time professional for the first time after mixing rugby with studying for a masters degree.
But Stirling says if the club can earn extra money through increased commercial revenues or improved gates, then Shanahan's squad will be the main beneficiary.
"We're down at that 1,700 average level of supporters per match," Stirling said.
"If we can get that up to 2,000 per game we're back in business and we can confident to build from there.
"The finances are tight, it's nip and tuck all the way, but it's a massive improvement of where we were 18 months ago.
"We're no in danger but it does require tight management day to day.
"We have got a lot of ideas to build the commercial side of the business and every penny we make in the non-rugby side of the business gets ploughed back into the rugby.
"More commercial activity, improved gates, all goes back into the rugby pot and that's money for James to spend."