Cardiff City's success could hurt Welsh rugby - Mike Hall
Last updated on .From the section Rugby Union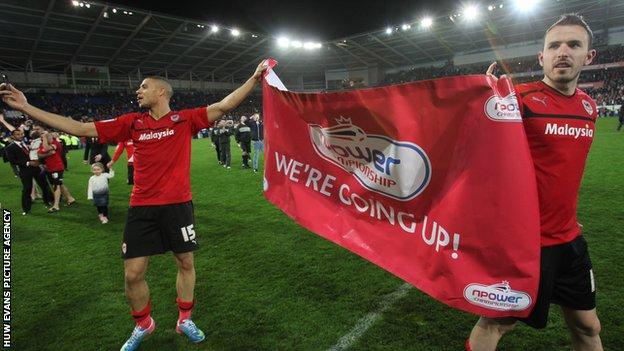 Ex-Wales rugby captain Mike Hall says Cardiff City's promotion to the Premier League is a huge threat to the regional game and Cardiff Blues in particular.
Hall, a former Bluebirds board member, fears rugby will not be able to compete with the interest in Cardiff's rise.
"They are on opposite ends of the scale at the moment," said Hall.
"The Premier League is a worldwide brand but Welsh rugby, sadly, is still bogged down in battles between the Welsh Rugby Union and the regions."
While Cardiff are preparing to quadruple their revenue from £20m to £80m next season, the city's professional rugby side will be operating on a £3.5m salary cap.
A lack of finance has resulted in the loss of a host of top players from all four Welsh regions, who are at loggerheads with the WRU over how to fund the regional game.
"You almost feel you want to bang some heads together and say 'boys wake up' because regional rugby is dying on its feet at the moment," Hall told BBC Radio Wales.
Ospreys noticed a sharp decline in attendances in the first season of Swansea City's promotion to England's top division in 2011.
Crowds at the Liberty Stadium home they share with the Swans are up by an average of 2,000 this season, but they are dwarfed by the attendances of their joint tenants.
Swansea have only twice failed to attract more than 20,000 for league games this season. The average Ospreys attendance is just over 9,500.
The difference between Cardiff Blues and the city's football club is even starker. While the Blues have played in front of an average of less than 8,000 this season, the Bluebirds attract almost 23,000 fans.
Hall believes even fewer people will choose to watch the Blues next season when the likes of Manchester United and Chelsea visit the Welsh capital.
"There's only so much money around in the economy, in south Wales especially," Hall added.
"When you decide to spend your pound, are you going to watch [Robin] Van Persie, [Wayne] Rooney and [Frank] Lampard or are you going to watch regional rugby in empty stadiums?"
Blues director of coaching Phil Davies, though, believes they can benefit from Cardiff's success.
"I know the buzz it has brought to Swansea with the Swans being in the Premier League so hopefully it will have a real positive effect," said Davies.
"It will really bring sport to the forefront of people around this area. Last Saturday was hopefully the sign of things to come with us getting 10,000 and them getting a 20,000-odd capacity to watch them in the Premier League."
Hall played a role in persuading the Blues to move from their Arms Park home to join the Bluebirds at the newly built Cardiff City Stadium.
After ground sharing for three years, characterised by dwindling crowds, they returned to their traditional home for this season.
And Hall said: "It's a huge backward step to go back to the Arms Park. It's a dilapidated stadium and we've all seen the state of the pitch.
"There's no proper corporate facilities there. I think everybody thought that moving back there was going to be a panacea for all the ills, it's simply not right.
"It was never the infrastructure that was the problem, it was the product. Unless they get that right they're going nowhere."