Sireli Naqelevuki signs new Exeter Chiefs contract
Last updated on .From the section Rugby Union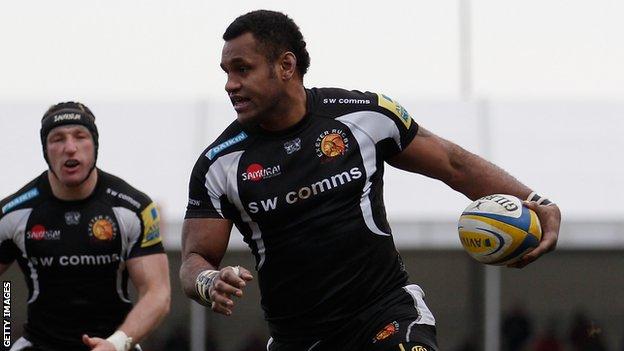 Exeter Chiefs centre Sireli Naqelevuki has signed a new two-year contract with the Premiership club.
"I am genuinely delighted that Sireli has decided to stay with us for another two years," said head coach Rob Baxter.
"He's been an exceptional player for us during our time in the Premiership, creating some fantastic moments."
The powerful centre, who has scored 13 tries in 49 career games at Sandy Park, is a crowd favourite and Baxter thinks he may improve in the next few seasons, having suffered a number of injuries including a broken arm, which kept him out for much of last season.
"Over the next two years I think you may see an even better Sireli Naqelevuki come to the party.
"He's had a few little niggles with his knees this year - and we've kind of kept him ticking along - but now the time has come for him to go in for a bit of a refurb this summer and we're hoping to see him absolutely flying at the start of next season."
And Naqelevuki says he is happy to be staying in Devon.
"For me it's good to be staying here in Exeter for another two years," he said.
"The club is very ambitious and having done well in the Premiership and also the Heineken Cup this season, I was always very keen to stay and play more games.
"The guys here are very hard-working, they want to play for one another, and the future of the club looks very good."