London Welsh coach Lyn Jones wants Kassam Stadium stay
Last updated on .From the section Rugby Union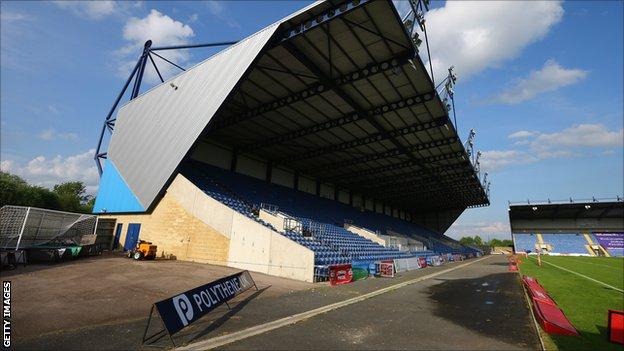 London Welsh coach Lyn Jones has urged the club's board to ensure they remain at Oxford United's Kassam Stadium.
Welsh were relegated from the Premiership last weekend and are considering returning to Old Deer Park.
But Jones believes remaining at the Kassam is essential if the club is to establish themselves in the area.
"The club will re-model itself and put together a new business model but staying in Oxford is very important for us," Jones told BBC Radio Oxford.
Relegation has seen a number of changes off the pitch with chief executive Tony Copsey confirming he is stepping down from his role.
Main shareholder and benefactor Kelvin Bryon is pulling out of the club, a move that will see them lose what chairman Bleddyn Phillips said was "critically important funding".
Welsh moved to the Kassam Stadium after their Old Deer Park home in Surrey was deemed unsuitable for Premiership requirements, but Jones believes their future should remain in Oxford.
"The bottom line is we haven't had enough time or enough money," he said.
"The Premiership is pretty unforgiving if you don't have enough money. There are some big teams. If you play in the big boys league you need big money.
"We have managed to put together a team capable of winning Premiership matches but our squad has not been good enough but we've enjoyed it.
"There is a big support base, the London Welsh team have grown with the Oxford public and I think the Oxford public have enjoyed having a professional rugby club on their doorstep.
"Playing there is going to be important to enhance the business and make it grow and make professional rugby sustainable for London Welsh and Oxford.
"The board have asked me to continue and I am keen to do so. I enjoy a challenge and I hope the board will come back with a vision of where we want to be in 12 months time and most important is that we go back up."