Exeter boss Rob Baxter impressed as European chase continues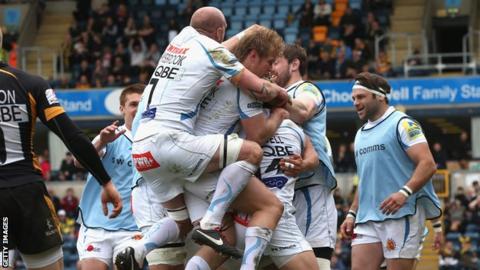 Exeter boss Rob Baxter feels his side are playing some of their best rugby as they bid to win a Heineken Cup place.
Exeter's convincing put the Chiefs two points clear of Bath in the race for sixth place and the final spot in Europe's top competition.
"This is starting to become one of those seasons which you wish would never finish," Baxter said.
"I'm looking forward to the next couple of weeks. We've got a very big and important game against Gloucester."
Should the Chiefs win against Gloucester they will secure Heineken Cup rugby for the second successive season, just three years after being promoted to the Premiership.
But Baxter says it will not be easy, especially after Bath's kept them in the hunt.
"Let's face facts, Bath pulled out a very big performance and they're more than capable of putting out a very big performance next week," he told BBC Radio Devon.
"They want the Heineken Cup just as much as we do, but this is the time where we've got to win things and that's how we'll approach next week.
"I have to take my hat off to the players.
"I said there were two ways we could come here - you can come here and be afraid of losing your Heineken Cup spot or you can come here and show that you're team that wants to go out and win one, and we played like a team that wanted to win a Heineken Cup spot."