Worcester Warriors: Managing director Charlie Little to leave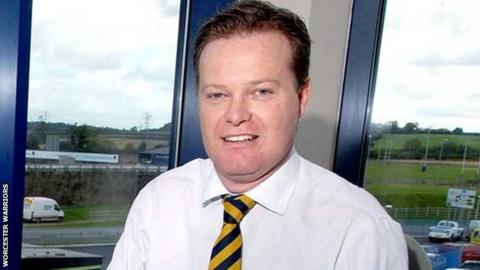 Worcester Warriors managing director Charlie Little is to leave the club.
Little will officially quit Sixways at the end of April, making a second high-profile exit from the Premiership side inside a week following last Tuesday's sacking of head coach Richard Hill.
It will end a near seven-year stay at the club for Little, who was commercial manager at Gloucester before becoming Worcester general manager in June 2006.
Worcester intend to appoint a chief executive to run affairs at Sixways.
"I would love to have stayed," Little told BBC Hereford & Worcester. "But they're a long way down the road to bringing in a chief executive with 20 years' brand experience. And I wish him or her success.
"It's unsettling, in a way, but it's a fantastic club that deserves success, there's some very good staff and there's continuity within the club.
"We've all said before that this is a sleeping giant and I have no doubt that this time next year Worcester will be in a very strong place. It's safe to say that good work done behind the scenes will continue.
"The bar raises every year. Halfway through the year we were doing well and we'd have hoped to move on. But we didn't.
"Small margins make a huge difference. Teams we narrowly lost to are now challenging for the places we want to be in and that might have been us.
"But this is sport. It's rugby. That's the way business works."
The club are also yet to confirm the future of several other backroom staff as they pick over the bones of a frustrating season.
"Charlie has been a loyal and incredibly hardworking member of our executive team," said Warriors chairman of the board Anthony Glossop. "In difficult times, he has overseen the huge transition of the Sixways complex, which is unrecognisable to when he arrived.
"The new road infrastructure, the £8 million Slick Systems Stand and the recent arrival of the very successful David Lloyd Leisure Club have all been successfully delivered under his leadership."
Millfield School and Loughborough University-educated Little, who was promoted to managing director in 2011, has spent over 10 years in professional rugby management.
His days at Gloucester coincided with newly-appointed Warriors director of rugby Dean Ryan's time as coach at Kingholm.
"I've worked with Dean Ryan before," added Little. "I know what he will bring to the Warriors.
"He will embody the culture of bringing on young players."
To further enhance the prospects of promising local talent, rugby committee chairman Bill Bolsover last week stipulated that all players and coaches will, in future, need to live within 40 minutes of Sixways.