Phil Bennett fears Premier League threat to Welsh regions
Last updated on .From the section Rugby Union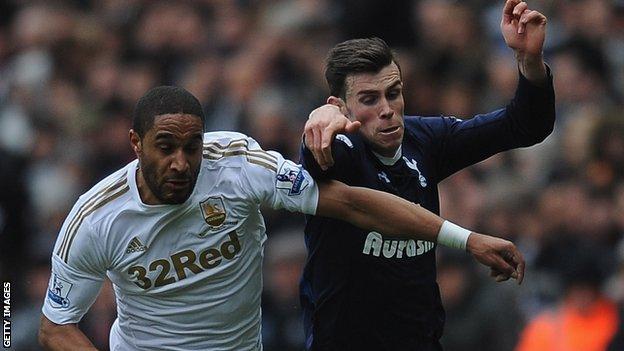 Phil Bennett says Welsh rugby needs to get its act together following Cardiff City's promotion to the Premier League.
Championship winners Cardiff will join Swansea City in English football's top-flight next season.
Ex-Wales fly-half Bennett fears rugby fans could turn to football if the Welsh Rugby Union and the four regions do not resolve their dispute.
"If anything needed bringing the two sides together it's that. The threat is there," Bennett said.
"At the moment, with all this bickering, all it's doing is driving spectators away from the game.
"For the good of Welsh rugby let's knock some heads together. Let's get the regions strong, grassroots strong and that will make her a top team at the very top."
The four Welsh regions are to meet the Welsh Rugby Union on Thursday in an attempt to settle the dispute that has bedevilled the sport.
Welsh rugby's continuing dispute comes during a season in which Cardiff City secured promotion to the Premier League, where they will face Swansea City next season.
Former Wales rugby captain Mike Hall believes Cardiff City's promotion to the Premier League is a huge threat to the regional game and Cardiff Blues in particular.
Bennett, the former Wales and Llanelli fly-half and now Scarlets president, is also fearful of the effect the Premier League will have on the regions.
"When I go to the Liberty, and I must admit it's great for me to go the Liberty to watch the Swans play, the football and the quality is magnificent," Bennett added.
"But it's not just the 90 minutes on the pitch. It's the quality beforehand and the quality after.
"It's funny I meet more rugby lads down at the Liberty who say 'it's great to come down here'.
"People are saying to me at Parc y Scarlets 'I may no longer take a season ticket out, I may go to the Liberty'.
"You've got the Rhondda Valley who are soccer mad [and] support Cardiff City.
"If they've got a choice to make and money is tight they might make the choice of saying 'do I watch Zebre play one weekend at Cardiff or Spurs play with Gareth Bale?'
"They in Cardiff now will be seeing the Wayne Rooneys and the [Ryan] Giggses of this world coming down to Cardiff quite regularly.
"Proud as we are to see two great City's going into the Premier Division we're now fighting soccer in many ways.
"We're fighting for an audience out there and it's going to be a tough fight.
"We've got to be fighting on one front and that's the Union and the regions together."