Edinburgh prop Allan Jacobsen to retire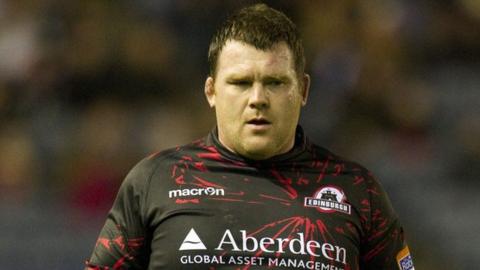 Former Scotland prop Allan Jacobsen has announced he will retire after Edinburgh's final match of the season.
The 34-year-old has been with the Scottish capital side since 1999 and
He won 65 caps and was in Scotland's squad for the three most recent World Cup tournaments.
Edinburgh host Dragons on 3 May, giving Jacobsen the chance to play his last match in front of a home crowd.
"I don't feel like I have to chase anything anymore, or prove anything. It's been a massive part of my life since I played for Edinburgh under-16s, and that was 20 years ago," said Jacobsen.
"You have to stop playing sometime and, for me, that time is now.
"It's time for me to move on with the rest of my life, return to my trade and probably start my own business."
Nicknamed "Chunk", Jacobsen served his time as a plumbing apprentice.
"I've always been looked after, and I got to where I wanted to be because of Edinburgh, so I never felt that I needed to go anywhere else," he added.
"I always wanted to do my best for Edinburgh and the fans who've supported me for so long.
"It's hard to describe the feeling you get from fans. They come and watch no matter what and, when things aren't going well, they're still out there paying their money to support you.
"I've always got a buzz out of the songs they've sang over the years. Their support has meant so much to me and I'd just like to say thanks."