Nat Saumi: Time was right to leave Plymouth Albion
Last updated on .From the section Rugby Union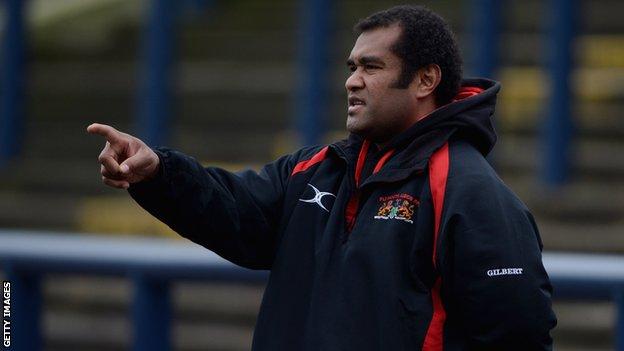 Nat Saumi says the time was right for him to leave Plymouth Albion and return to his native Fiji.
After 17 years in south-west rugby, the last 10 at Albion, Saumi will be boss after
"I've been trying to go home for the last two years, but I keep coming back," Saumi said.
"But last season, with the problems in the club, I stayed behind to bring that stability," he told BBC Radio Devon.
The Fijian international moved to Redruth in 1996 before switching to the Cornish Pirates a season later.
He spent five seasons at the Mennaye before moving to Albion in 2003, where he gradually became more involved in the coaching side of the game.
Saumi came to the rescue of Albion as forced the club to a month after he took over
But Saumi says Shanahan can help bring success back to Albion, whose ninth-placed finish in the Championship was their highest for three years.
"With James Shanahan coming into the picture to take over I hope that what I've left behind, with the stability, they'll move forward next season.
"With the core of the players we have, if we can build them and retain them, then we should have good goals next season.
"It is a great club and with the base that we've got hopefully maybe in two, three or four years time we might be up there in the Premiership."
And Saumi cites the club's third-place finish in the old National One as his highlight with the club.
Albion finished 11 points off eventual winners Bristol and seven off second-placed Exeter after a 13-game unbeaten run in the middle of the season.
"It was a good season for us with a good team," Saumi said.
"I've made lots of friends in rugby and that's the best memories I have. When you make friends that's the most important thing you can have."