Rugby World Cup boost for Olympic Stadium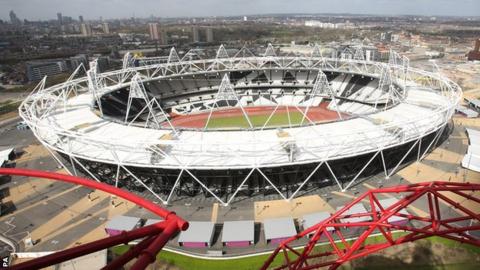 Organisers of the 2015 Rugby World Cup are planning to give London's Olympic Stadium a major role in the tournament.
The International Rugby Board is considering playing five games at the stadium in east London.
Major teams are expected to play there to maximise the ground's 60,000 capacity.
It was originally thought that the stadium, which is on a shortlist of 18 grounds to host games, would only stage one or two matches.
The IRB is expected to confirm the fixtures soon.
The Rugby World Cup board met in March and said "appropriate time should be given to allow every possible opportunity to include the Olympic Stadium, one of the world's most recognisable venues".
Organisers of the tournament, the IRB and Olympic Park officials are all keen to use the ground to maximise ticket revenues.
Premier League football team West Ham will move into the stadium, which was built for the London 2012 Games, in time for the 2016-17 season after it is configured following the World Cup.
Essex are also hoping to play some Twenty20 cricket games there.