Launceston progress impresses club captain Tom Rawlings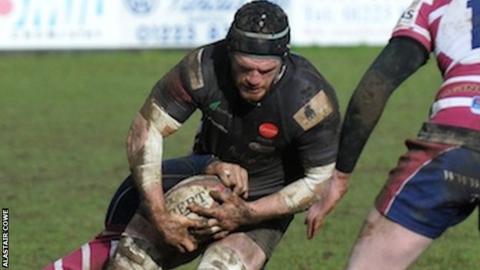 Launceston skipper Tom Rawlings says he is impressed with the progress the club has made in the past year.
The club are in their second season in National Two South after relegation from National One. and a win at Chinnor will guarantee sixth place.
"We're in much better stead than we were 12 months ago," Rawlings told BBC Radio Cornwall.
"Financially we're a much stronger club, we've got through the season off the back of a couple of hard seasons."
Launceston have settled the club's finances since and going into liquidation in 2010.
And Rawlings says the club's youthful squad has benefitted from their second season in the fourth tier of English rugby.
"We're a good strong outfit and we've got to build into next year now and we've got to look at winning games when it matters.
"We lost a couple of games against lower-end teams and if we can get that consistency I don't see why we can't get a top-half finish next year like we have this year and push those top sides even closer.
"The young guys have all gained really good experience this season that stands us in very good stead for next year.
"If we can pick up a couple of key positions and bring a couple of boys in, and keep the squad we've got, then I think we're in a stronger position than we were 12 months ago.
"We've had two building-block years since we've been back down in this league and we've got to up our game and start pushing for that higher-end finish rather than settling for that mid-table finish," he added.