Paris's Stade Jean Bouin to host 2014 Women's World Cup final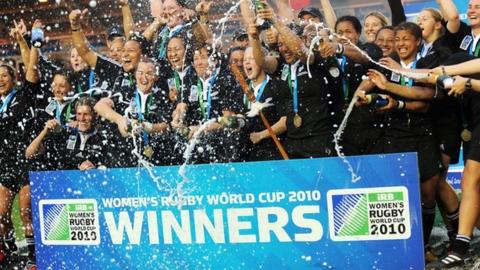 Stade Jean Bouin, the home of club side Stade Francais, has been selected to host the Women's Rugby Union World Cup final in 2014.
The stadium, currently undergoing refurbishment, reopens later this year with an increased capacity of 20,000.
"It's really shaping up to be a World Cup like no other," said tournament director Philippe Bourdarias.
The final will take place on Sunday, 17 August, with the tournament kicking off at the beginning of the month.
"We've all seen how women's rugby has progressed rapidly since the last World Cup in 2010 in England. We want to build on that success," added Bourdarias.
The tournament format is the same as the 2010 World Cup, with twelve teams split into three pools of four.
Eight nations have already qualified for next year's tournament: New Zealand, England, Australia, France, United States, Canada, Ireland and Wales.
In Madrid, six teams - Italy, Netherlands, Samoa, Scotland, Spain and Sweden - are playing in a week-long qualifying tournament for two places at France 2014.
These two qualifiers will be known after the last round of matches on Saturday, 27 April.
This will leave two places in the tournament for countries from an African and Asian qualifier.
The Stade Jean Bouin will also host the semi-finals and bronze final, with the knockout stages played at the Federation Francaise de Rugby in Marcoussis and Marcoussis Rugby Club.
International Rugby Board chairman Bernard Lapasset said: "I have no doubt that this tournament will capitalise on the phenomenal success of the last Women's Rugby World Cup and elevate the women's game to new heights.
"The Federation Francaise de Rugby has considerable experience of hosting major international rugby tournaments, highlighted by the success of Rugby World Cup 2007.
"Along with France's world-class facilities, strong tournament management and an extensive and enthusiastic support base for women's rugby, it is perfectly positioned to host a memorable and ultimately successful Women's Rugby World Cup 2014."