Jersey rugby: Top try-scorer Guy Thompson and 16 others staying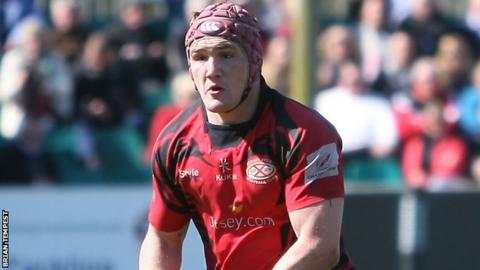 Jersey's leading try-scorer Guy Thompson heads a list of 17 players to commit to the team for next season.
Former England Sevens player Thompson, 25, who scored seven Championship tries this term, joined
The island side have signed back-row Joe Buckle from Bath after a dual-registration period.
Captain and scrum-half Nicky Griffiths has also agreed an enhanced deal, as has centre David Bishop.
Forwards Sean McCarthy, Fred Silcock, Rob Anderson, Dave Felton, James Voss, Myles Landick, Dave Markham and Elvis Taione are others to agree terms for next season
And backs Ed Dawson, Tom Cooper, Joel Dudley, Mark McCrea and Donovan Sanders have also committed to the club.
"Guy's been one of our stand-out players this season and I'm delighted that he's going to be back for more," said Jersey director of rugby Ben Harvey.
"It's no surprise he attracted some interest from other clubs, so it's great news for Island rugby that he has committed to us."
In addition, Jersey have added seven new players for the start of next season.
will move to the island as well and
Harvey expects more of the island's current squad to commit in the coming days and weeks.
"I've spoken to all the players from this season's squad and in the great majority of cases it's been decided what they'll be doing for next season," he added.
"But it's barely a week since our Championship status was confirmed, and inevitably there are a few cases where details remain to be finalised and it would be inappropriate to go public.
"Finalising the remaining players, including both existing squad members and one or two more new faces, will be a priority for the next week."