Launceston suffer a final-day defeat against Chinnor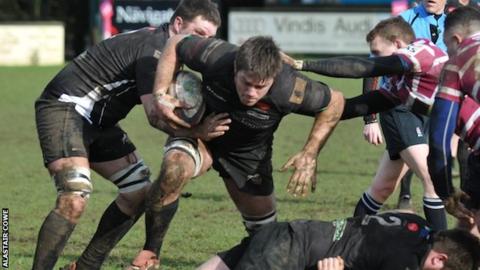 Launceston boss Cliff Rainford said he was disappointed not to end the season on a high after losing 27-13 at Chinnor on National Two South.
The loss meant the Cornish All Blacks slipped behind Chinnor to seventh in the final table.
"It's disappointing not to go out with a win," he told BBC Radio Cornwall.
"We had our chances but didn't take them and Chinnor played reasonably well and obviously wanted it that little bit more," Rainford added.
Chinnor were 13-0 ahead after 30 minutes before Kieron Lewitt's penalty reduced the arrears.
Lewis Paterson's try on 55 minutes brought Launceston to within three points, but Leo Fielding and Jonathon Winpenny went over for Chinnor to seal their win.
Despite the loss, Rainford says he is pleased with his first season in charge.
Launceston have settled the club's finances since and going into liquidation in 2010.
Rainford explained: "If somebody had said to me at the start of the season that you'd be in the top half of the league, with all that's happened over the past few years at the club, I'd have probably said 'thank you very much'.
"There's probably half a dozen games that, had they gone the other way, we'd have been pushing towards the top end of the league. But it's a good start and it's something to build on for next season.
"We've learnt a lot this year and massively improved as a squad, so we'll carry that through into next season now.
"We've brought through seven or eight players from the second team and they've come through and made a positive impact.
"I's good to see young local guys getting their shot and making an impact in the squad."