Sean Holley rues Jonathan Humphreys' loss to Scotland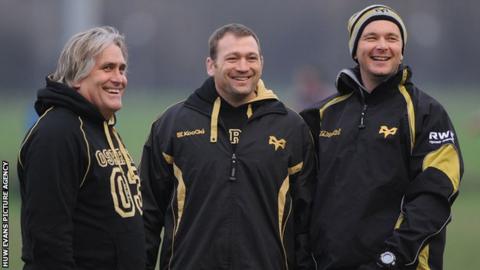 Former Ospreys head coach Sean Holley has said that it is a great opportunity for
But Holley, the says Humphreys' departure to join Scott Johnson's backroom staff does not reflect well on Welsh rugby.
"It's sad that another Welsh coach has to move outside of Wales in order to progress," Holley said.
"And that's a sad reflection of where we're at at the moment in Welsh rugby."
Holley took charge of Ospreys along with ex-Wales captain and hooker Humphreys for the 2008-09 season, in the wake of Lyn Jones' exit in May 2008.
During the next nine years, before Steve Tandy took over from Holley, Ospreys won three Celtic League titles and lifted the EDF Cup, with Johnson in place as Ospreys director of coaching for some of that period.
Holley praised Humphreys' contribution to that success and promised that Scotland were getting a top-quality coach.
"I'm delighted for Jonathan, I think he's probably the one person at the Ospreys who's had the least amount of credit for recent success - particularly in terms of the scrum with both Ospreys and Wales, who have done very well with players from the Ospreys," Holley added.
"He deserves to move on and coach an international team and also the opportunity after such a long time to get a fresh challenge.
"For Jonathan, personally, and for his family this is a great opportunity, it's a great move for him.
"He'll have some fantastic experiences, not just on summer tours but within the autumn series and in the Six Nations to pitch his coaching ability against the best sides in the world.
"I'm sure he's going to add a huge amount of value to the Scotland team, and the players there don't realise how lucky they are to have somebody of his calibre.
"He's certainly someone who I've worked closely with and got on with, he's a true friend, and we've already discussed that sometime in the future we hope to coach together again."