Latu Makaafi returns to Jersey as one of three signings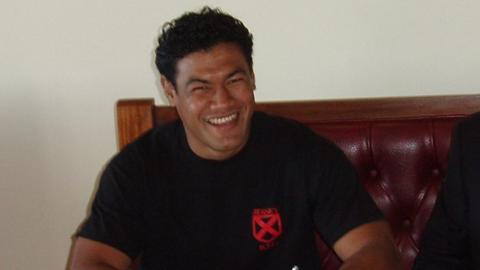 Back-row forward Latu Makaafi is to return to Jersey after leaving Rotherham for the island club.
The 31-year-old was one of Jersey's first ever professional players when he came to the club in 2006 when the island side were in London Two South.
Also joining Jersey is his Rotherham team-mate, scrum half Jimmy Williams, and Cambridge prop Tom Fidler.
But Jersey prop Richard Barrington is leaving the club after accepting a deal with Premiership club Saracens.
"I'm sure local rugby supporters will share my delight at getting Latu back in a Jersey shirt," said Jersey director of rugby Ben Harvey.
"He's become renowned in the Championship for his uncompromising style of play during three years in this league with Doncaster and Rotherham."
Latu and Kern Yates joined Jersey from Bradford and Bingley in 2006 as the first fully-paid players at the club as they
He spent two years in the island before moving back to Yorkshire to play for Hull, Wharfedale and Doncaster, before going to Rotherham.
Scrum-half Williams, 24, is a replacement for Dave McCormack,
A former Gloucester youngster, Williams played for Lydney and Birmingham and Solihull before moving to Rotherham two years ago.
Fidler makes the step up to Championship rugby after more than 150 games at lower levels having been at Dings Crusaders, Newbury and Birmingham, as well as a short spell at Ealing in 2011-12 as they ran Jersey close for promotion to the Championship.
"Jimmy is a live-wire scrum-half who really impressed me this season and his presence alongside Nicky Griffiths and Joel Dudley will give us real strength in depth at number nine," said Harvey.
"Tom is a proven operator and I've no doubt he's capable of making the step up from National One to the Championship."
While Harvey is sorry to lose Barrington, he says it is part and parcel of being a Championship side.
"The Championship is a shop window, and there are Premiership scouts at every game, which creates a real opportunity for talented young players like Richard," he explained.
"He's been on the radar of Saracens for some time and spent a week there earlier in the season, and has now got the chance to make the move.
"We're very sorry to lose a player who has played a key role for us this season, but he deserves the opportunity and we wish him all the best."