Howley: Wales deserve Lions share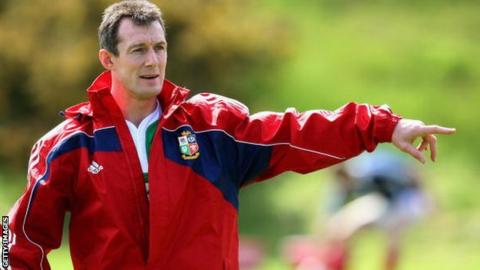 Coach Rob Howley says Wales deserves to have the largest contingent in the 2013 British and Irish Lions tour party.
Wales provide 15 of the 37-man squad for the 10-match tour to Australia in the summer, while England provide 10, Ireland nine and Scotland three players.
Wales reached the 2011 World Cup semi-final, won a Grand Slam in 2012 and won the 2013 Six Nations title.
"It is rightly deserved," said Howley, who will be the Lions Attack Coach.
"The Welsh players, came through adversity, after the first game, three tough away games and then that special day at the Millennium Stadium against England.
"I am delighted because they deserve to be on the tour, they all played particularly well and now it is the challenge of getting in the Test side.
"It is something some of them have been a part of in 2009 and there is a pedigree there and there are also young players who haven't been there before, like Alex Cuthbert and George North."
Howley was appointed Wales interim coach during the recent Six Nations, while Warren Gatland was on his Lions duty.
The former 1997 and 2001 Lions scrum-half masterminded Wales' recent Six Nations success which saw them deny Grand Slam-chasing England with a 30-3 victory at the Millennium Stadium.
Howley admits the performance and the manner of the victory over England had a major bearing on the selection and make-up of the Lions squad.
"The performance against England was very telling," said Howley.
"That will be remembered for many a year and through adversity showed character in their performances and every one of them deserves to be on the Lions tour."
Neil Jenkins, the Lions kicking coach, is the only member of Gatland's coaching team to know what it feels like to win a Test series with the Lions.
The former Wales fly-half kicked the Martin Johnson's class of 1997 Lions to a 2-1 Test series victory over the Springboks in South Africa and that was the last time the best of British and Irish rugby won a Test series.
Jenkins, who was part of Howley's coaching team to win the 2013 Six Nations title, is not surprised that Wales make up the bulk of the Lions squad.
"It's not easy to pick 37 players but it has been picked and I think it is an excellent squad," said Jenkins.
"I think it's the first time we have had this amount since 1977.
"But it's about the success on the pitch, with the World Cup and the Six Nations success of the last few years, and it is hard to argue against any of those players really because they have been outstanding."